Saints Blank Timberwolves in Liberal
KSCB News - March 18, 2016 6:01 am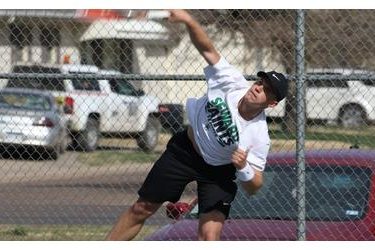 The #4 Seward County Saints rolled to their tenth win of the season Sunday morning in front of their home crowd at Blue Bonnet Park in Liberal, hammering the visiting Colorado State-Pueblo Thunderwolves 9-0 to glide into Spring Break 10-0.
Doubles play got things kicked off Sunday on a foggy morning in Liberal. The Saints earned their first point of the match at #2 where Ondrej Nice and Felipe Casares secured a quick 8-2 win to put Seward up early 1-0. The matches at #1 and #3 doubles were a little bit more contested by the Thunderwolves, but in the end, it was Seward prevailing 8-4 in both spots to go up 3-0.
In singles play, Nice earned an easy 6-1, 6-2 win over David Mould at #4 singles while Zach Suico had little trouble at #6 with a 6-2, 6-1 win to give the Saints a 5-0 lead. Przemek Zielinski and Ngoni Makambwa, both top 50 ranked players for the Saints, picked up matching 6-2, 6-3 wins for Seward at #2 and #5 to make it 7-0. Alex Mosehle played a tough first set at #3 singles, winning 6-4, but cruised in the second 6-1 to secure the Saints seventh win of the morning. The match of the day came at #1 singles where Carlos Anez battled Aussie Siggy Menzel. In front of spirited crowds on both sides, Anez took the opening set 6-4, but watched as Menzel took the second 6-3 to even the match up. The tiebreak was a close one as well with Anez eventually outlasting Menzel 10-8 to take the match and secure the sweep for the Saints.
Seward improves to 10-0 on the year with the win while CSU-Pueblo falls to 0-6.
The Saints will enjoy Spring Break with their undefeated record before putting it back on the line on March 22nd when they host the Barton Cougars at Blue Bonnet Park.
#4 SEWARD COUNTY/COLORADO STATE-PUEBLO MATCH RESULTS<http://www.sewardsaints.com/sports/mten/2015-16/files/2016SewardCSUPM.pdf>
The Seward County Lady Saints picked up yet another lopsided victory Sunday morning at Blue Bonnet Park, taking down NCAA Division II foe Colorado State-Pueblo by a score of 9-0 to improve to 13-0 on the year.
Seward started the match with a point as CSU-Pueblo was unable to fill all three doubles spots. Sliding up to the #1 doubles line was Nthabi Mogopodi and Thalita Rodrigues who battled back from an early deficit to win 8-5 for a 2-0 match lead for the Lady Saints. Also moving up in the lineup due to the default was Madison Hoelting and Tadi Mrewa to #2 and like their teammates, came from behind to win 8-5 as well to put Seward up 3-0 after doubles action.
Another Pueblo default at #6 singles and a quick 6-0, 6-1 beating by Rodrigues at #2 singles clinched the match win for the Lady Saints, but they weren't done there. Mialiniaina Rakotondrazafy won 6-2, 6-3 at the top spot for Seward while sister Maminiaina Rakotondrazafy put matching 6-3 scores together for a win at #3 to put the Lady Saints in front 7-0. Alba Payeras battled through some struggles to gut out a 6-1, 7-5 win at #5 for Seward and Yennifer Delgado finished up the sweep in the final match of the day, downing Samantha Cachutt 7-6 (3), 0-6, 10-7 in #4 singles.
The 9-0 victory for the Lady Saints pushes them to 13-0 on the year while Colorado State-Pueblo falls to 0-5.
Seward's next outing will come on March 22nd at home at Blue Bonnet Park when they open Jayhawk Conference play with a battle against the Barton Cougars.
#10 SEWARD COUNTY/COLORADO STATE-PUEBLO MATCH RESULTS<http://www.sewardsaints.com/sports/mten/2015-16/files/2016SewardCSUPM.pdf>