Saints Blank Lamar for Soccer Win
Brock Kappelmann - September 1, 2023 7:16 am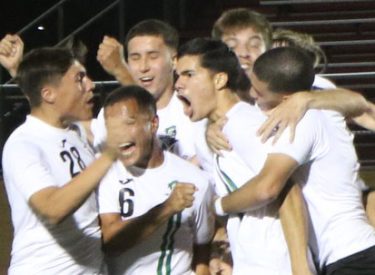 Jay Daubenberger
Liberal, KAN. – The Saints took the field on Thursday night against Lamar in their final game of a four-game homestead and will now hit the road with some momentum after shutting out the Lopes with a 2-0 victory to improve to 2-2 on their inaugural season.
The first half was a constant exchange of possessions between the Saints and the Lopes where both teams were limited in shot attempts. The few shot attempts that Lamar took were swatted away and saved by Ashton Miller who recorded two saves in the first half during his second start of the season to keep the Lopes scoreless in the first half, entering halftime tied 0-0.
The second half was much like the first for the first 30:00 minutes of action, but the tide turned quickly for the Saints when Francisco Nava-Gomez found Javier Rucheli for the first goal of the game to give Seward County a 1-0 lead with just under 12:00 minutes remaining in the game. After the Saints sunk their first goal of the contest, a flip finally switched on the offensive end and Seward County went on an onslaught against the Lopes defense with multiple shots attempted to try and increase their lead. A late penalty by Lamar at the 9:40 mark gave the Saints an attempt at their first penalty kick in program history and Nate Kelly made good on it to increase their lead to 2-0 over the Lopes. Lamar tried to respond to put themselves on the board but an athletic save from Santiago Gonzalez Uribe secured the shutout win for the Saints with a 2-0 victory.
Miller and Uribe each played one half for the Saints and each recorded two saves in the game to prevent the Lopes from putting any points on the board. Rucheli and Kelly each recorded one goal for SCCC with Nava-Gomez recording an assist. Six players for the Saints totaled nine shot attempts with all four shot on goal attempts coming in the second half for Seward County.
The Saints four game homestead now comes to an end as they hit the road for five straight away games to begin September, starting at Garden City on September 6th in Garden City, Kansas.