Saints Bash Barton
KSCB News - March 17, 2012 5:57 pm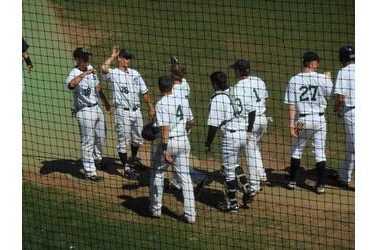 Seward County broke out Saturday afternoon. After going 1-3 at Rose State, the Saints rose up Saturday with two conference wins over Barton at Brent Gould Field. The Saints won the first game 9-2 and took game two 15-3 in seven innings.
In game one, Seward scored seven of their nine runs with two outs including five in the third and two in the fourth to blow the game open. Keegan Hucul (4-1) did the rest pitching all seven innings striking out six.
Willie Gustin went 2-3 with five RBI's and two doubles which both plated two runs. Kevin Domzalski was 2-4 with a homer and a double. Trevor Julian added a two RBI double and Steven Polito was 2-3.
In game two, the Saints scored five unearned runs in the first to take a 5-1 lead. Gavin Glanz overcame some first inning rust pitching six innings and improving to 4-1.
Troy Owen launched a three-run homer over the left center field wall for his second homer of the season. Johnny Griffith hit a three run shot and pitched a scoreless seventh. Tanner Rainey was 2-3 with three RBI's. Steven Polito reached base safely all five times and was 2-2. Ben Wainwright was 2-2 and reached base all four times.
The Saints are 7-3 in the Jayhawk West and 14-13 overall while Barton is 16-8 overall and 3-7 in the Jayhawk West. The same two teams meet Sunday at 1 p.m. on Talkradio 1270 and kscbnews.net.