Saints Baseball Players Sign
Brock Kappelmann - July 29, 2021 3:49 pm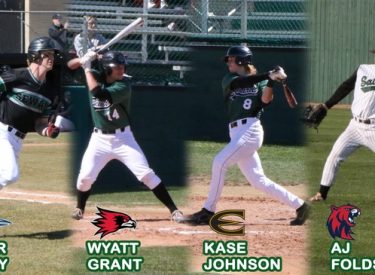 LIBERAL, Kan. – During the month of July, we had four Seward County Community College baseball student-athletes sign to four-year universities. Wyatt Grant, Aj Folds, Kase Johnson, and Peter Goldy will continue their academic and baseball careers at the four-year level next year.
Wyatt Grant will attend Southeast Missouri State University located in Cape Girardeau, Missouri. Grant was named an All-American Honorable mention, KJCCC's most valuable player in the Jayhawk West, and named first-team all-conference. During the season Grant batted third in the line-up and was the catcher for the Saints. He has been a part of the program since the 2018-19 season and last season had 18 home runs, 66 RBI's, and a .392 batting average.
AJ Folds will be competing at Rogers State in Claremore, Oklahoma. Folds has been a part of the program since the 2018-19 season and has an overall .306 batting average, with 50 RBI's and 24 doubles. The Amarillo, Texas native has been an outfielder for Coach Davidson's teams these last two years and helped the Saints secure second place in the Jayhawk West in the 2021 season.
Kase Johnson will attend Emporia State University in Emporia, Kansas next year. Johnson started as the second baseman for the Saints and had 97 put-outs last season, with 13 double plays, and a fielding percentage of .912. From the plate, Johnson had 15 doubles, four home runs, and a .353 batting average in the 2020-21 season.
Peter Goldy will compete at Metro State University in Denver, Colorado next year. Goldy has been a part of the Saints baseball program for the last two years and was the starting right fielder during the 2020-21 season. In the field, Goldy had 72 put-outs with a .906 fielding percentage. Offensively he had a .313 batting average, 10 doubles, and 36 RBI's last season.
Last year the Saints finished second in the Jayhawk West and hosted the Sub-Regional tournament at Brent Gould Field. These four contributed all season to the team's success and will bring their work ethic and winning ways to the four-year level. We will continue to monitor their journey as they head to their new campuses.