Saints Back to 500 with Sweep Over Hutch
KSCB News - March 15, 2015 7:24 am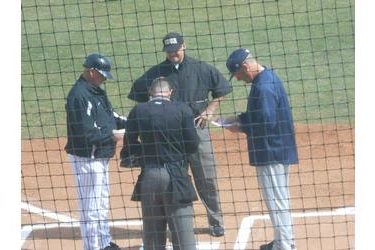 The Seward County Saints showed their fans the kind of team they can be Saturday. The Saints swept the Jayhawk West's first place team and defending conference champion Hutchinson at Brent Gould Field. The Saints won 7-3 and 11-3.
In game one, JB Olson (3-3) pitched the distrance for the complete game win. He did not issue a walk. Seward out-hit Hutch 13-7. Brent Williams led the offfense going 3-4 with two doubles and an RBI while Justin Graff-Rowe and Logan Nethercott were 2-4. Every Saint in the lineup had a hit.
Seward scored two in the first when Brandon Rix singled home a run and Brent Williams scored on a wild pitch. Seward added a run in the third when Rix grounded out to drive home Nethercott. Seward added three in the fifth to make it 6-1. Graff-Rowe drove home a run with a single and Dillon Drury whacked an two RBI single. A Williams RBI double to score Alex White gave the Saints their sixth run in the sixth.
In game two, Hayden Howard (2-1) pitched eight strong innings without allowing an earned run. He struck out four and walked one. Seward out hit Hutch 17-7. Logan Nethercott, Alex White, and Brandon Rix had three hits a piece.
The Saints scored in the first when Williams laced a double down the left field line to score White. The Saints added three in the second. White singled home a run, Graff-Rowe hit a sac fly, and Rix singled home a run. Seward added two more in the third to lead 6-1. Brandon Urquizo doubled home a run and White hit a sac fly. The Saints put up a four spot in the sixth when Rix and Drury hit RBI singles and Nethercott had a two RBI single. Urquizo drove home a run in the eighth for the eleventh run.
Seward is 9-12 and 5-5 in the Jayhawk West and Hutchinson is 12-5 and 4-2. The same two teams meet Sunday at 1 with a 12:50 Dugout Show on 1270 and kscbnews.net.