Saints are 2nd Headed to Semis at NJCAA Tennis Tournament
Brock Kappelmann - May 20, 2021 7:20 am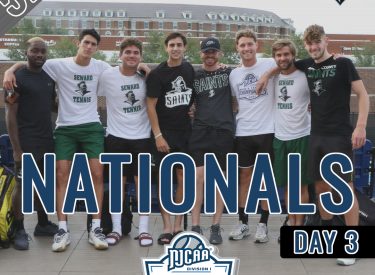 Kenny Hernandez
PLANO, Tex. – Seward County Community College wins nine of their 12 matches on day three of the National tournament to earn 33 points that place them second in the standings. The Saints will compete in the semifinals of three singles draws and three doubles draws. The tournament returned to Collin College for day three action and with all 16 courts available they were able to get the double draws caught up with the second round and quarterfinal matches all on day three.
To start the day the singles draw took to the courts. Kyllian Savary was beaten by Cowley College in straight sets 6-1, 6-1 in the number two singles draw. Raul Centeno was defeated by ABAC 6-2, 6-2 in the number three singles draw. Luciano Fisicaro came up short in the first set tiebreaker and ended losing in straight sets 7-6, 6-4 to Collin College in the number one singles draw. These were the only three matches that the Saints lost all day.
Juan Gonzalez started off the hot streak with a 6-2, 6-3 sweep over Wallace State Community College in the number four singles draw. Martins Abamu came back after a first set loss 2-6, won set two 6-2, and set three 6-4 after falling behind 1-4 in the number five singles draw. Enzo Frequelin defeated Jacksonville College in straight sets 6-1, 7-5 in the number six draw.
In the doubles brackets, the Saints started it off with a straight-set victory 6-2, 6-3 for Centeno and Fisicaro in the number one draw over Harford Community College. With the win, they advanced to the quarterfinals where they defeated Eastern Florida 6-2, 6-3 to advance to the semifinals.
In the number two doubles draw, Kyllian Savary and Enzo Frequelin defeated Prima Community College to advance to the quarterfinals. They won their next match 6-1, 7-6 (7-4 in tie break) to continue in their draw and will be in the semifinals. Mauri Gonzalez and Emiliano Vecchia won their first doubles match 6-0, 6-1 over Mississippi Gulf Coast Community College in the number three doubles. They followed up with a 6-4, 6-2 victory over Collin College to advance to the semifinals.
So far the Saints are 15-3 at the National tournament and with their wins find themselves in second place after day three. Tomorrow Seward County will look to punch their tickets to the championships of their respected draws.
For a complete breakdown of the National Tournament standings and draws follow the link below.
2021 NJCAA Men's Nationals Brackets