Saints Announce Second Hall of Fame Class
KSCB News - January 7, 2013 12:37 pm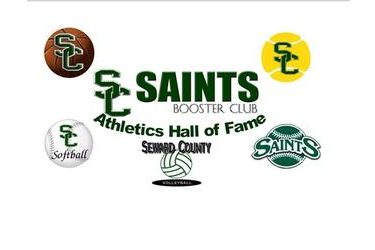 On the heels of a successful inaugural Hall of Fame
Class induction in the Spring of 2012, the Saints Hall of Fame voting
committee has made its decision on the second Hall of Fame Class, the
Class of 2013. Three members will be enshrined at the Athletics Banquet
on April 19th in the Greenhouse. Long time boosters Brent Gould and
Charles Brownlee will join Saints basketball legend Tony Slaughter to
represent the Hall of Fame's second class.
Gould was one of three original Saints Booster Club
Lifetime Members, donating a substantial sum to get the Booster Club on
its feet. He was a permanent fixture at Seward County home and road
events throughout the years. In 1996 the Saints baseball field was
named after Gould in recognition of his support and passion for Seward
County baseball. Slaughter is the all-time leading scorer in Saints
history with 1,548 career points. His 26.7 points per game over his
career are nearly 4.5 points more than second place on the career
scoring list. He is the only player in school history to score more
than 675 points in each of his two seasons and his 873 points during his
sophomore year are the second most single season points scored in school
history. He was a two-time 1st Team All-Jayhawk West and 1st Team
All-Region VI selection for the Saints. Brownlee has given over 40
years of service to Seward County CC. Before becoming a regular as a
fan in the Greenhouse, Brent Gould Field, and Lady Saints Softball
Field, Brownlee served as a track coach, bus driver, and Athletic
Director for the Saints. Brownlee was a longtime member of the Board of
Directors for the Saints Booster Club and also served on the Saints
Athletics Hall of Fame Committee. He, along with his wife Evelyn, have
established the Brownlee Science and Math Endowment Fund for student
scholarships, with preference given to a Lady Saints Basketball player.
Following the selections for this year's class, the Hall
of Fame committee is already hard at work in an effort to secure
nominees for the class of 2014. If you would like to be a part of the
fun, submit your Hall of Fame nominee through the Saints website by
CLICKING HERE
<http://www.scccsaints.com/index.php?option=com_chronocontact&Itemid=289
> and filling out the simple form. Participants may fill out as many
nominations as they would like throughout the year.
Roy Allen