Saints and Lady Saints Win Region 6 Tennis
Brock Kappelmann - April 24, 2017 6:41 am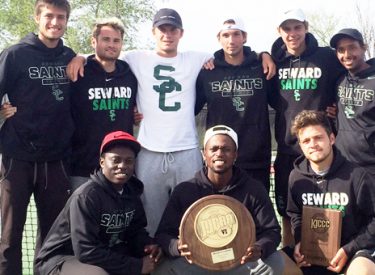 There is a new boss on the block in Region VI Tennis and that is the Seward County Saints. Seward dominated the field Sunday in Great Bend at the Region VI Championships, collecting 17 of the possible 18 points across nine lines to win their third straight Region VI Title and qualify for the NJCAA National Tournament in Plano in three weeks.
The matchup at #2 singles was a good one between two of the top 35 ranked players in the NJCAA as Seward's Duro Opacic took on Cowley's Lucas Freitas. Opacic came out swinging and blanked Freitas in the first, but the Brazilian bounced back for a 6-4 win in the second to send the match to a deciding third. In the third Opacic outlasted Freitas 7-5 to claim the #2 title during his freshman campaign.
It was another solid performance for Ondrej Nice who took it right at Cowley's Lukas Michenka to the tune of a 6-4, 6-1 straight set win to capture his second straight individual Region VI Championship at #3.
It was another ranked matchup at #4 between Seward's Przemek Zielinski and Cowley's Julian Aubry-Damon. Zielinski snuck out a 7-6 win in the first set and then throttled Aubry-Damon in the second 6-1 to each his first individual gold.
Claudio Quinones avenged an earlier loss to Cowley's Ronald Rufyikiri at #5 for the Saints, winning a pair of tightly contested sets 7-6, 7-6 to take home the Region VI singles title there.
The match at #6 singles was a good one as Seward's Ngoni Makambwa outlasted Cowley's Jose Castro in a 6-4, 6-3 decision to give the Saints their fifth individual title of the afternoon.
Cowley's only win over Seward came at #1 where Guilehrme Dos Santos knocked off the Saints Carlos Anez in a three setter 4-6, 6-3, 6-1 to give the Tigers their lone point of the day.
In doubles, the Saints were equally as impressive. Nice and Anez defended their #1 national ranking with a 7-6, 6-0 win over Cowley's Dos Santos/Michenka at #1 for the title.
Alex Mosehle and Gabriel Nery saved their talents for pairs play where they took down Aubry-Damon/Castro at #2 by a count of 6-3, 6-2 to claim a Region VI Championship of their own.
Opacic and Zielinski finished off the clean sweep for the Saints in doubles play, bouncing back from a 6-3 first set defeat to Freitas/Borrero of Cowley for a 7-5 second set victory and a 6-2 win in the decider to take the #3 title.
Nobody was even close to the Saints in the final tournament standings as Seward won with an impressive 17 total points with Cowley a distant second with 10 and Barton a National Tournament qualifier with 4 points.
The Saints, Tigers, and Cougars will now prepare for the next three weeks before heading to Plano, Texas for the NJCAA National Tournament May 15-19 in the Lone Star State.
REGION VI TOURNAMENT RESULTS <http://www.sewardsaints.com/sports/mten/2016-17/files/MRegionVIDay2.pdf>
Women
The Seward County Lady Saints captured their first NJCAA Region VI Championship in program history in dominating fashion Sunday in Great Bend, bringing home individual titles at 8 of 9 spots to blow away the competition by a whopping 8.5 points in the two day event.
The Lady Saints couldn't have been any better in singles play starting with top gun Thalita Rodrigues who took the court at #1 against Cowley's Sarah Frendo. Rodrigues came out energized and built on that with a 6-2 first set victory. In the second she had to grind, but came up with a 6-4 win to claim the most coveted title as Region VI #1 Singles Champion.
Smooth as silk all year long, freshman Sarah Manseri looked like a veteran at #2 singles as she took on Cowley's Barbara Broville. Manseri took care of business in the first 6-3 and then hammered Broville in the second 6-1 to claim the crown.
Another rookie showed some savvy for Seward at #3 as Lisa Suzuki took on Cowley sophomore Sara Petric. Suzuki had little trouble in a 6-2 first set win over Petric and kept on rolling in the second with a 6-3 win to take the title in straight sets.
At #4 Steffany Bermudez came out on fire, taking it to Cowley's Maria Garduno 6-1 in the first before grinding out a 6-4 second set win to sweep her way to a Region Championship.
Martina Borges took a little while to get going at #5 for Seward against Cowley's Kasey Coker, but once she did, she was unstoppable, bouncing back from a 7-5 defeat in the first to take the second 6-1 and the third 6-2 to bring the #5 title back to Liberal.
Fernanda Santana used the same script as Borges, dropping her first set at #6 singles 6-3 to Maria Zimmerman of Cowley before flipping the switch for 6-2 and 6-4 wins in the final two sets to give the Lady Saints a clean sweep of all six singles titles.
With their first Region VI Championship in program history already clinched, the Lady Saints continued to push in pairs play.
Freshly ranked #11 in the country, Manseri and Bermudez fought tough with Cowley's Garduna/Coker at #2 to win 7-6, 6-4 for both of their second championships of the weekend.
At #3 it was a repeat Region VI Champion as Madison Hoelting and Tadi Mrewa took the book ends of a 6-2, 6-7, 6-3 match against Broville/Zimmerman from Cowley to collect the same hardware that they won at Blue Bonnet Park one season ago.
Seward's only loss of the day came at #1 doubles as the home team Barton got one thing to cheer about on the weekend, taking a 6-2, 6-7, 6-1 decision over Rodrigues and Suzuki for just their second point of the tournament.
The Lady Saints put up 17 points to win the tournament while second place Cowley had 8.5 and Barton had 6 to finish third. All three teams qualify for the NJCAA National Tournament in Tucson, Arizona May 7-11.
REGION VI TOURNAMENT RESULTS<http://www.sewardsaints.com/sports/wten/2016-17/files/WRegionVIDay2.pdf>
Roy Allen