Saints and Busters Split a Pair on One Run Games
Brock Kappelmann - April 13, 2019 5:37 am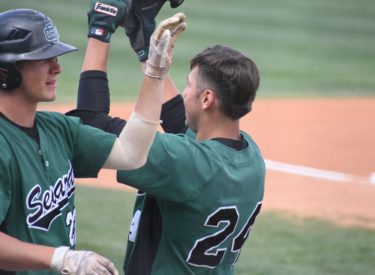 The Seward County Saints and Garden City Broncbusters hooked up at Brent Gould Field in Liberal on Friday afternoon and evening.  In both games, Garden City built a lead and the Saints rallied.  The Saints rally allowed them to prevail 7-6 in game one and the Busters held on for a 10-9 game two win.
In game one, the Busters scored two in the first.  GCCC defense helped SCCC score three in the first.  Cruz Shope, AJ Folds, and Jose Caraballo singled.  Garden scored two in the second against starter Tanner King in the second for a 4-3 lead.  The runs were unearned.  Cruz Shope singled and stole second and advanced to third in the second.  He could score on another GC error.  The Broncbusters took a 6-4 lead with two in the fifth.  Benny Ayala hit a three run homer with two outs in the sixth to lead 7-6.  Braedon Gould pitched three strong innings in relief allowing two runs.
Garden City got off to a good start in game two against Cole Evans.  The Busters scored two runs in the first.  The Saints matched that in the bottom of the first as Shope walked and  Folds doubled and scored on a Cayde Ward ground out.  The Busters scored five in the third for a 7-2 lead.  Future Liberal Bee Jay Corbin Truslow homered in the first and third for Garden City.  The Saints plated four in the sixth to make it 7-6. Caraballo proved a two RBI triple.  Wyatt Grant hit a sac fly.  Folds singled home a run.  The Busters added insurance in the eighth and scored three.  The Saints scored three in the ninth and had the winning run at second.  Zane Alexander and Grant had RBI hits in the inning.
Seward is 21-18 overall and 13-9 in the Jayhawk West while Garden City is 23-14 and 9-9.  The teams play Sunday at 1 at Williams Stadium in Garden City with Saints Dugout Show at 12:45 on 1270 and kscbnews.net.
Game 1 audio:
Game 2 audio, first five innings:
Game 2 audio, sixth inning to end: