Saints Rally not Enough at Cloud
Brock Kappelmann - January 29, 2022 8:00 pm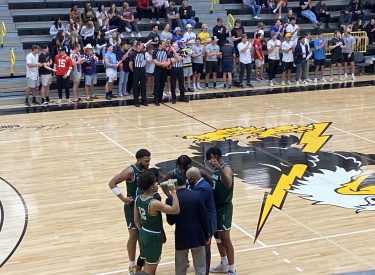 The Seward County Saints were being run out of the building in front of a boisterous crowd at Bryant Gymnasium and Erckebrack Court Saturday afternoon and evening.  Cloud led 28-4, 35-7, and claimed a 40-18 halftime lead.  Seward out scored Cloud 49-31 in the third quarter but lost 71-67 after they couldn't grab a rebound when they were down two with about seven second left.
The Thunderbirds shot 73 percent in the first half and made 8-10 from beyond the 3 point arch in the first half.  The Saints wasted little time rallying in the second half.  Seward cut the Thunderbird lead to 43-29 with 17:09 remaining.  Seward got to within 11 at 45-34 with 13 minutes to play.  The Saints cut the lead to nine a 47-38.  Seward cut the lead to eight at 50-42 with 8:08 left.  The Saints made it 61-55 with 4:02 to play when Will Dubinsky ripped a three.  Harvin Ibarquen's  three point play made it 61-58 with 3:20 remaining in front of a nervous Cloud crowd.  Dubinsky's left wing three tied the game at 63-63.  The game was also tied at 65-65 but Seward never led.  Seward trailed 69-67 and there was about a nine second difference between the game clock and shot clock.  Seward forced the miss but couldn't grab the rebound.  Cloud's put back made it 71-67 with 4.5 seconds left.
The T-Birds shot 55 percent and made 11-17 from three. Seward shot 43 percent and 63 percent in the second half.  Seward was 9-21 from three and 6-9 in the second half.
Seward loses at Cloud for the first time since 2017.  The Saints fall to 9-13 overall and 6-10 in the Jayhawk.  SCCC is 3-8 on the road and has lost four straight Jayhawk Conference road games.  Cloud is 10-11 overall and 6-9 in the Jayhawk.
Seward plays at Coffeyville Monday night at 7:30 on 107.5 and the KSCB and The Legend App.