Rural communities use events like the fair as cultural preservation
Calen Moore - August 16, 2023 5:30 pm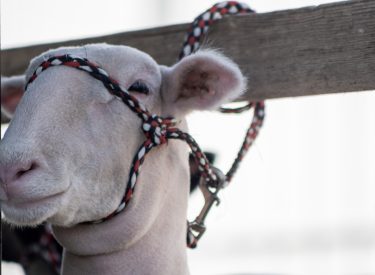 Despite the declining population in rural Kansas, the people remaining use events like county and state fairs as cultural preservation. Members in these communities are hoping to pass down traditions and knowledge of agriculture to their kids and bring communities together.
LIBERAL, KS– The sound of bleating sheep and goats precede giggling children as they run in their boots across the dirt and gravel. Most of them are accompanied by their own sheep, goat, pig, or cow as they guide them to the livestock barn– some are a little more reluctant than others. 
A crowd of parents, community members, and agriculture enthusiasts gather in the shade and watch the kids prepare the animals to be judged in the livestock competition part of the Five State Fair, an annual fair in Seward County Kansas.
A lot of the kids are younger than 13, but they move in this environment like they have been doing this their whole life, in fact, most of them have. Kids like Kirbe Koons, age 10,  and her cousin Harper Conine, age seven talked about cattle like seasoned veterans. 
"I've been showing cattle for about four or five years," Koons said. "[My favorite part] is the washing, it may get me a little dirty but it's a lot more fun than blowing, I hate blowing," she said.
The girls spread suds of soap over the heifers that tower over them, one of them named Kit Kat, Conine named her herself. This is her first time showing cattle at a livestock event. When asked if she thought her cows would win, she responded with an optimistic "maybe" while she continued to brush the cow, eyes locked on her brush strokes, displaying the artistry of livestock showing.  
Koons is from Kearny County KS and her cousin Harper is from Scott County KS. Scott County's population peaked in the 1980s, and Kearny's in the 2000s, both counties have seen gradual population decline ever since. However, both counties are in slightly better shape than the counties surrounding them, which have had a steady population decline since the turn of the century.
"Yeah, it's about an hour and a half, its a while down here, I've been here before to judge [livestock] but I haven't shown here before," Koons said 
 They drive past the vast fields of wheat and sorghum to participate in fairs and 4-H activities, a tradition in their families, but also a chance to stay connected to more populated communities like Liberal and Dodge City. 
Mary Rose, Seward County Treasurer, grew up in 4-H and said a lot of kids in 4-H who live out in the country use fairs as an opportunity to come into town and also see people they would not normally have the chance to see.
"It brings the community together, it enriches their life, like how to properly care for an animal, or understand what a soybean looks like, why we plant it here that sort of stuff," Rose said. 
The Five State Fair started in 1913 in Seward County. Fairs originally started as a way to buy and sell agriculture, and today fairs are still instrumental in agriculture to show livestock, their best crops, clothing, or even talents like photography. 
"People as a whole learn from more seeing than any other way, the fair is a visual representation of the best that can be done on the farms, the orchards, the garden, the feedlots, the factories, the kitchens, the drawing rooms, and the art studios and all of the diverse aspects of humanity as a whole," Rose said. 
Rose said that fairs and agriculture are resilient, like the people part of it. The Five State Fair has had a fair during both World Wars, the Great Depression, the flu pandemic of 1918, and the COVID-19 pandemic. The last pandemic caused to fair to experience financial struggles that they are still experiencing today. One of those casualties was the carnival this year, which usually provides entertainment for those from the city limits and outside the city limits alike.
"When you get into the carnival business, you have to sign long-term contracts, usually five years, and scheduling them, and getting them to come here after the pandemic, has been difficult, but we have been okay with it and I think this year we really tried to have plenty of fun events throughout the week," Rose said.
This year the fair stripped back to family-oriented events and agriculture events, trying to preserve the fair and the fairgrounds, and the rural culture that surrounds it. 
"Ag is our way of life, this is how we eat, this is how we live and it's kind of old time, a handshake is a handshake it seals the deal, it's not just about the money, its also who we are," Rose said. 
Fairs like the Five State Fair and other county fairs protect and encourage agriculture and education surrounding it, which in southwestern Kansas is the backbone of the economy, the beef industry had an output of 8.9 billion dollars in 2022 in Kansas. Agriculture remains the leader of industry across the state. Western Kansas is one of the leaders in the nation for food production. Agriculture in this area of Kansas is the leader of jobs and often opportunity, making it critical to keeping citizens in southwest Kansas as populations are expected to continue declining in rural areas, or grow at a slower rate than before.
Blaine Red is a livestock judge coach at Murray State College in Tishomingo Oklahoma, and he assisted in judging the livestock showing this year at the Five State Fair, staring down sheep, goats, pigs, and cattle with a serious intensity, trying to determine the better animal. 
"Usually what I look for is good size, good muscle build, the overall physical appearance of the animal is what I judge," Red said. 
Red grew up around cattle and was involved in livestock shows, he is happy to see kids passionate about livestock and getting out in fairs and other showings to compete. 
"I think it's awesome when young people are involved in American agriculture and showing livestock is a great way to get involved, even if you didn't grow up around it," Red said. 
Carole Rosenstein is a research associate in the Center on Nonprofits and Philanthropy at the Urban Institute and has studied how preserving cultural heritage serves communities. In her research, she has found that cultural heritage binds diverse communities together. 
Rosenstein said it happens at county fairs and folklife programs, and in community cultural centers and native language schools. Along with public broadcasting, cultural heritage organizations, like the fair, help promote and preserve their identities, traditions and values that could be otherwise overlooked or disappearing. 
This kind of heritage also comes in the forms of ethnic or community-centered events, which are particularly important for immigrant and ethnic minority groups in rural areas as well. Like the upcoming Southwest Community Fiesta by the Liberal Cinco de Mayo Committee next month, they recognize the importance of preserving and sharing cultural heritage in the community, allowing for different cultures to interact and understand each other. 
Rosenstein believes that celebrating or taking steps to acknowledge and protect your cultural heritage and others around you, "leads to a greater sense of community, and that is one reason it is vital to civil society and public life."