Run Rule Win Gives Saints Split in Colby
KSCB News - April 3, 2016 9:39 am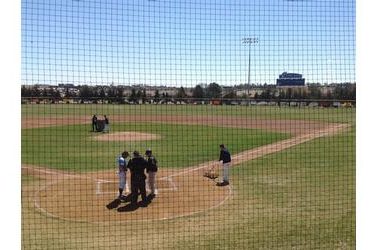 Seward bounced back. After a 12-3 loss in game one of the series which included five MLB scouts looking on, the Saints bounced back to beat the Trojans 16-6 in seven innings at Colby.
The game one pitching matchup of SCCC's Jakob Hernandez against Colby's Jeremy Gwinn brought scouts from the Royals, Rangers, Yankees, Mariners, and Giants. Gwinn and his 90 plus mile per hour heat handcuffed the Saints. The Trojans scored one in the first and third innings. They added two more in the fourth and fifth innings. Hernandez struck out nine and moved into second in Seward history with 108 strikeouts in a season. Danny Vais had 119 strikeouts in 2003. The Saints scored in the fourth. SCCC cut the lead to 6-3 when Easton Herring hit a two run single up the middle. But Colby scored six in the sixth against the Seward bullpen.
Seward scored early and often in game two. Seward scored three in the first, second, and third innings before four in the fourth. The Saints added three in the seventh. In the first, Josh Nicol drove home a run with a groundout. Justin Graff-Rowe blasted a two run shot to left for his fourth round tripper of the season. Colby answered with three in the first to tie it at three. In the second, Errett Edwards and Tony Dorado had RBI singles and Chad Kennedy hit a sac fly. In the third, Jared Ledbetter doubled home a run and Edwards hit a two run homer to left. Kennedy doubled to lead off the fourth before Dorwdo singled him home and Nicol singled home Dorado. Judah Sweat tripled home Dorado and scored on a Logan Nethercot ground out. In the seventh, Graff-Rowe singled home a run and Sweat singled home two. Sweat was 3-4 with a triple, a double, and four RBI's.
Seward is 17-16 and 7-7 in the Jayhawk West while Colby is 24-10 and 13-5. Seward plays two at Colby Sunday at 1 with Saints Dugout Show at 12:45 on 1270 and kscbnews.net.