Another Run Rule and Bee Jays are in the Pool at Number Two
Brock Kappelmann - August 7, 2023 9:24 pm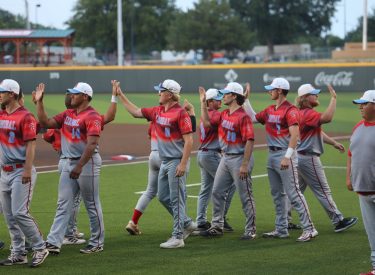 After the loss to the Seattle Studs on Thursday, the Liberal Bee Jays responded with a pair of run rule wins to take the #2 spot in Pool C at the NBC World Series.  Monday night, the B.J.'s run ruled Arlington Baptist 13-3 in five innings at Eck Stadium.
The Bee Jays scored two in the second.  Ryota Kusumota walked and Luke Rhee doubled to left.  Coldon Kiser hit a sac fly.  Isaac Webb singled home a a run.  The Patriots scored in the third to make it 2-1 but Coldon Kaiser's throw from center field prevented a second run from scoring.  Liberal scored three in the third for the 5-1 lead.  A right hand hitting Walker Polk whistled a ground rule double to left field to lead off the inning.  Mateo Garcia walked.  Ryota Kusumota doubled home two runs.  Derek Lukes singled home a run.  The "powder blue and red" scored  five in the fourth to lead 10-1.  With two outs, Owen May doubled.  Walker Polk walked and Mateo Garcia laced a two RBI double over the right fielder's head.  Hudson Polk reached on an infield single.  Ryota Kusumoto singled home a run.  Derek Lukes added an RBI single.  The Patriots scored two in the fifth to make it 10-3.  Coldon Kiser singled to lead off the fifth.  One run scored on a wild pitch.  River Jackson walked with the bases loaded.  Jett Brown singled to left to end the game in a run rule.
Liberal out-hit the Patriots 12-4.  Ryota Kusumoto was 2-2 with three RBI's and was Epic Touch Player of the Game.  Each B.J. starter had a hit.  Adrian Najar went 4 and 1/3 with six strikeouts.  Paul Panduro went 2/3 scoreless.
Arlington Baptist is 20-12 and Liberal is 30-12.  Liberal plays the loser of Denver vs. Lonestar which is played late Monday night.  The game is played on Wednesday on 1270 and 92.3.