Ruiz Looks to Bring LHS Girls Soccer Up to Par
KSCB News - March 23, 2016 1:00 pm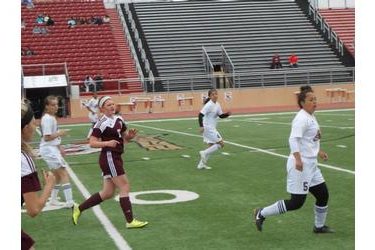 Carolina Limon. That's a good place to start for first year Liberal High School head girls soccer coach Carlos Ruiz. Limon, who has signed to play soccer at NJCAA power Butler, has led Liberal in scoring in each of the past two seasons. Ruiz, a 2009 LHS graduate, place Limon on defense during the first practice. Despite being Liberal's obvious top offensive threat, Limon didn't hesitate in hustling to the defensive spot earning the coach's trust from the very start.
Ruiz inherits a program which has never won. Liberal has gone 5-10-1, 5-11, 6-10, and 2-14-1 the past four seasons. Ruiz has been's Lori Navarro's assistant for five years and played for the Redskins before graduationg in 2009.
The team has already received bad news as Garden City CC signee Ariana Diaz injured her knee and is out for the season after an injury last week. Some key players to watch include Sr. defense Vanessa Alvarado, Jr. forward Kayla Gokey, So. forward/midfielder Alondra Alvarado, Fr. defense Kim Alarcon, and Jr. goalie Reyna Gonzalez.
Ruiz says the program has good athletes but neads more ball touches to click as a team.
Liberal opens at Dodge City Thursday and plays at home against Borger Friday. The team was featured during the Sportsguys Tuesday morning.
Thursday, Mar 24, 2016
Game
5:30PM
Away vs. Dodge City
Dodge City High School
Friday, Mar 25, 2016
Game
5:30PM
Borger
Liberal High School
Monday, Mar 28, 2016
Tournament
TBD
Away vs. Wichita-South
TBA
Wednesday, Mar 30, 2016
Tournament
TBD
Away vs. Wichita-South
TBA
Saturday, Apr 2, 2016
Tournament
TBD
Away vs. Wichita-South
TBA
Tuesday, Apr 5, 2016
Game
5:30PM
Great Bend
Liberal High School
Thursday, Apr 7, 2016
Game
2:30PM
Hays
Liberal High School
Monday, Apr 11, 2016
Game
5:30PM
Garden City
Liberal High School
Thursday, Apr 14, 2016
Game
5:30PM
Away vs. Great Bend
Great Bend High School
Thursday, Apr 21, 2016
Game
2:30PM
Away vs. Hays
Hays High School
Tuesday, Apr 26, 2016
Game
5:30PM
Away vs. Guymon
Guymon High School
Tuesday, May 3, 2016
Tournament
TBD
Away vs. Wichita-North
TBA
Thursday, May 5, 2016
Tournament
TBD
Away vs. Wichita-North
TBA
Saturday, May 7, 2016
Tournament
TBD
Away vs. Wichita-North
TBA
Tuesday, May 10, 2016
Game
5:30PM
Away vs. Garden City
Garden City High School
Thursday, May 12, 2016
Game
5:30PM
Dodge City
Liberal High School
Redskin Field
Tuesday, May 17, 2016
Regionals
TBD
Away vs. TBA,
TBA
TBA
Tuesday, May 24, 2016
Quarterfinals
TBD
Away vs. TBA,
TBA
TBA
Friday, May 27, 2016
State
TBD
Away vs. TBA,
TBA