Rough Riders Shock Bee Jays
Brock Kappelmann - July 12, 2023 9:19 pm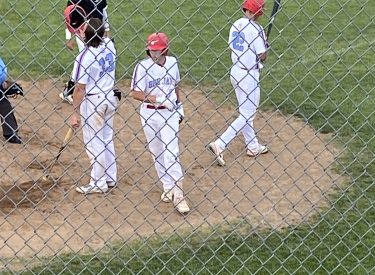 The last place Colorado Rough Riders beat the Liberal Bee Jays 11-9 Wednesday afternoon and evening in Wheat Ridge.  The Rough Riders snapped a six game losing streak in the process.  Liberal is now 3-2 on their 8 game road trip.
The Rough Riders led 11-1 after three innings.  They scored one in the first and seven in the second.  The Rough Riders hit two home runs in the second.  The B.J.'s chased home a third inning run.  Owen Barger singled and Isaac Webb doubled before Ryota Kusumoto grounded out to score a run.  Colorado scored three in the third for the 11-1 lead.  Liberal scored one in the fourth as Mateo Garcia doubled to lead off the inning.  Jackson Schofield rolled a single through the left side to make it 11-3.  The Bee Jays scored three in the fifth to make the scored 11-5.  Ryota Kusumoto doubled with one out.  Justin Hudson ground an RBI single down the third base line.  Nick Husovsky drilled a two run home run to center.  After going scoreless in the sixth, Liberal scored two in the seventh.  Isaac Webb and Ryuta Kusumoto singled to begin the inning.  Liberal scored on an error and a wild pitch.  The Bee Jays scored two in the eighth.  Isaac Webb homered to left.  Ryota Kusumoto doubled and Justin Hudson doubled him home.  But the Bee Jays were retired in order in the ninth.
The Bee Jays out-hit the Rough Riders 13-12.  The B.J.'s committed four errors and the Rough Riders had two.  Ryder Slatten helped out the pitching staff going five innings with six strikeouts, one walk, and one earned run.  Isaac Webb and  Ryota Kusumoto had three hits a piece.  Liberal lost despite six doubles and two homers.
The Rough Riders, who also beat Hays, are 6-17 in the Rocky Mountain and Liberal is 18-6 overall and 11-3 in the RMBL.  Liberal plays at the Gameday Angels in Parker Thursday night at 7:30 central time.  Bee Jay Dugout Show at 7:15 on 1270 and 92.3.