Rolla 3rd Grader Wins State Poster Contest
KSCB News - January 6, 2015 11:30 am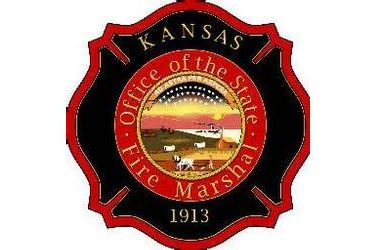 Students across the state of Kansas participated in the annual Office of the State Fire Marshal (OSFM) Fire Safety Poster Contest. The contest is held during Fire Prevention Week in October to help students learn about fire safety in a fun and engaging way. The three winners will have an opportunity to meet the Governor on Friday, January 23, 2015.
This year's theme was "Show What You Know About Fire Safety." Entries were judged on originality, creativity and use of the theme. Local fire departments and their participating schools submitted town winners to the OSFM, who then selected final winners in each category.
"The work of the students gets better and better every year, and it gets more and more difficult to choose the winners," said Doug Jorgensen, State Fire Marshal. "Educating kids at a young age about the importance of fire safety is essential – the more they know the more involved they can be in fire prevention at home and the smarter they'll be should a fire occur no matter where they are. Our office has a great time looking at all the entries and seeing all the creative ways kids can express what they already know about fire safety. "
The three winning entries and nine Honorable Mentions will be featured in a calendar to be produced by the OSFM. A limited number of these calendars will be available through the agency.
WINNERS:
| | | | | |
| --- | --- | --- | --- | --- |
| Category | Name | Grade | School | City |
| K–2nd | Eva Daugherthy | 2nd | Chanute Christian Academy | Chanute |
| 3rd–4th | Marisela Pu | 3rd | Rolla Elementary School | Rolla |
| 5–6th | Amanda Bilby | 6th | Mulvane Middle School | Mulvane |
HONORABLE MENTIONS (also included in the calendar):
| | | | | |
| --- | --- | --- | --- | --- |
| Category | Name | Grade | School | City |
| K–2nd | Deja DeAnda | K | Gridley Elementary School | Gridley |
| K–2nd | Havana Olander | 1st | Windom Elementary School | Little River |
| K–2nd | Callie Jones | 2nd | Quincy Elementary School | Topeka |
| 3rd–4th | Elle Kreighbaum | 3rd | St Patrick Catholic School | Chanute |
| | | | | |
| 3rd–4th | Marissa Ruiz | 3rd | Tecumseh South Elementary School | Tecumseh |
| 3rd–4th | Alexis Salazar | 4th | Pauline South Elementary School | Wakarusa |
| 5–6th | Daniel Ackerman | 5th | Marysville Elementary School | Marysville |
| 5–6th | Kennedy Barnhouse | 5th | Milford Elementary School | Milford |
| 5–6th | Florence Felipe M. Barles | 6th | St. Patrick Catholic School | Chanute |