Ricquia Jones KJCCC Player of the Week
KSCB News - November 6, 2012 3:17 pm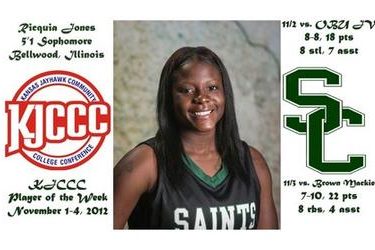 It couldn't have been a much better start to her
sophomore season for Seward County point guard Ricquia Jones in the
Pepsi Classic to kick off the 2012-2013 season this weekend and on
Tuesday, the Lady Saints leader was honored for her performance with
KJCCC Co-Player of the Week honors. On Friday against Oklahoma Baptist,
Jones was a perfect 8 for 8 from the field, good for 18 points, and also
added 8 steals and 7 assists in the route over the Lady Bison. On
Saturday she turned in another career performance, scoring a career high
22 points on 7 of 10 shooting and 4 of 5 from downtown and also grabbing
a career high 8 rebounds in Seward's win over Brown Mackie. On the
weekend the 5'1 guard averaged 20 points, 6 steals, 5.5 rebounds, and
5.5 assists per game while shooting 83% from the field.
Jones shared the honor in the opening week with Garden
City forward Tamara Jones who also participated in the Pepsi Classic in
the Greenhouse over the weekend.