Ryckman Selected to Fill Senate Seat
Joe Denoyer - March 5, 2021 2:57 am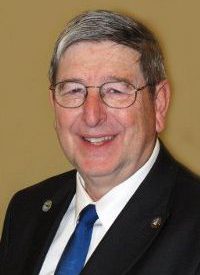 Ron Ryckman Sr., of Meade, was selected as the new Kansas senator of District 38 at the Dodge City Community College Little Theater on Thursday night. Ryckman will replace the late Sen. Bud Estes who died in February after a prolonged illness.
Ron Ryckman Sr. was selected by the GOP precinct committees of Kansas Senate Dist. 38 as its new senator at a special election Thursday night at the Dodge City Community College Little Theater.
Ryckman fills the position after the passing of Sen. Bud Estes due to a prolonged illness in February.
Ryckman  had previously been in the Kansas House of Representatives for the 115th Dist. from 2011 through 2017 when he was selected by the precinct committee to replace Garrett Love who had been elected to the State Senate.
While in the House Ryckman was the vice chair of the transportation committee.
District 38 is made up of of Ford, Seward, Meade, Gray, Clark and parts of Hodgeman counties. GOP precinct members of those counties filed the deciding vote after three rounds of voting.
Ryckman went up against fellow GOP candidates Joe Nuci, Dodge City; Andrew Evans, Dodge City; Gary White, Ashland; and Russ McBee, Dodge City.
Each candidate was given an opening statement to speak to the precinct committee on why they felt they would be the ideal candidate for the job, followed by a 30-minute Q&A session.
In total, there were 141 voters and proxy's from each of the District 38 counties in attendance to vote.
Eleven from Clark County, 36 from Seward County, 50 from Ford County, 16 from Gray County, 11 from Hodgeman County and 17 from Meade County.
To have a majority vote, a candidate needed 71 to be named the new senator.
The first round of voting saw Ryckman with 53 votes; Nuci 48; White 24; Evans 14 and McBee 2.
The lowest vote-getter was then taken off the ballot and a new vote needed to commence.
In the second round of voting, Ryckman received 62; Nuci 60; White 14 and Evans 4.
Again the lowest vote-getter was taken off the ballot for the third and eventual deciding vote with Ryckman receiving 78; Nuci 59 and White 4.
By Vincent Marshall