Revamped Balko Looks for Breakthrough Season
Brock Kappelmann - August 14, 2018 12:51 pm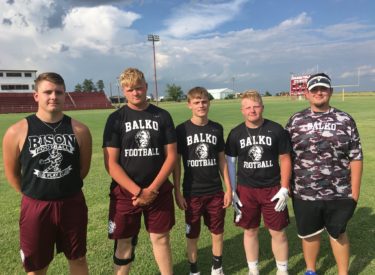 Balko has new players, a new head coach, and is hoping for different results in 2018.  The Bison were 1-7-1 last season.  The Bison have had three staight losing seasons since their 9-2 2014 season.  They return two starters on both sides of the ball at the class C school which plays eight man.  They have a new head coach in Trevor Knight who had been at Cyril.  And no, this is not the same Trevor Knight who used to play quarterback at Oklahoma.  Knight is a Tipton native.  Balko had just 12 out for football but Knight says there is talent in Balko even though the numbers are low.  Balko has just one senior this year so there is reason for promise for the future.
Some of the key Balko players are  Jr. G/NG Taylor Blackburn, Fr. Qb/S Jaden Hall, Jr. FB/LB Brice Lane, Jr. Rb/CB Blane Sager, and Jr. G/DE Logan Cowan.
Balko was featured during the Sportsguys Tuesday morning.  Balko opens with Turpin for the first football meeting between the two Panhandle neighbors since 1983.
Schedule
August 24- at Turpin (102.7 and kscbnews.net)
September 7- Holly
September 21- Tyrone
September 28- at Pond Creek
October 5- Timberlake
October 12- at Boise City
October 18- at Sharon Mutual
October 26- Buffalo
November 2- at Waynoka