Retired District Magistrate Judge with Local Ties Receives Statewide Award
Joe Denoyer - November 8, 2019 1:28 pm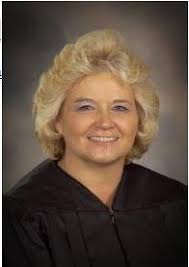 TOPEKA—District Magistrate Judge Roseanna Mathis, who retired in August, received the Lee Nusser Award for Outstanding Magistrate Judge of 2019.
The Kansas District Magistrate Judges Association presented the award to Mathis at its annual meeting October 22 in Wichita.
District Magistrate Judge Jenifer Ashford, the group's newly elected first vice president, presented the award to Mathis.
Ashford said the consistent comment from Mathis' peers in Kingman County, where she most recently served, was that she was tough but fair.
Ashford said Kingman County Attorney Matthew Ricke told her Mathis "was consistent and fair in her decisions, she was prepared and took time to read anything that was submitted to the court, and she could tell when someone was being less than forthright and honest."
Mandi Stephenson, a Kingman County lawyer, told Ashford that Mathis was passionate about child in need of care cases.
"The children in those cases came out knowing how much she cared about them," she said.
Mathis also had been a magistrate judge in Morton County, and Chief Judge Bradley Ambrosier of the 26th Judicial District told Ashford, "While her reputation was probably more on the tough side, the reality is nobody tried harder than Roseanna to help people turn their lives around."
Mathis said that during her 27-year career as a judge, she hopes she "made a positive difference in people's lives."
"Sometimes you never know," she said, but years later, one juvenile who had appeared before her said her decision from the bench had helped turn his life around.
Mathis was quick to add that more people than she help make a difference.
"There have been lots of good people I've worked with who have made big differences," she said.
Before retiring, Mathis served as magistrate judge in Kingman County of the 30th Judicial District since 2012. She first became a judge 20 years earlier in Morton County. Mathis, who then was Roseanna Volden, was elected a magistrate judge in 1992 and re-elected four more times. The 26th Judicial District uses the political process to elect judges, with candidates filing for election.
She resigned as Morton County magistrate judge in 2012 and moved to Kingman County, where she remarried. She later applied for a vacant district magistrate judge position there. She was selected and retained by voters in two subsequent elections. The 30th Judicial District uses the merit selection process to select judges.
Before becoming a judge, Mathis worked for 12 years as a paralegal for a law firm in Elkhart.
Mathis said that when she resigned as Morton County judge, she soon missed the work.
"I recommend retirement," she said. "I missed the job when I first left, but this time I was ready."
The Kansas District Magistrate Judges Association award is named for Judge Lee Nusser, who served as a district magistrate judge in Stafford County from 1976 to 1999. He died in 2003.