Residential Fire Saturday at 1014 N. New York Ave.
Joe Denoyer - August 21, 2023 11:06 am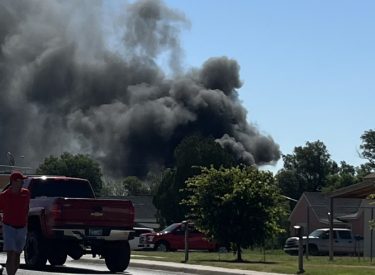 At 11:05 am Saturday Liberal Firefighters were dispatched to 1014 N New York for a reported garage fire. The fire was discovered and first reported by personnel from the Seward County Fire Department who were staging for a downtown parade. At the time the fire was discovered the attached garage was fully engulfed and spreading to the residence and a passenger car parked outside.
Seward County Firefighters initiated an attack on the fire with the apparatus and personnel on hand. The first city fire unit on scene was the ladder truck which was also staged for the parade. Additional responding fire units and personnel were delayed by traffic congestion in the immediate area and main thoroughfares leading to the area. As personnel were assembled on the fireground, the immediate concern due to the advanced nature of the fire was exposure protection for the residences to the north and south. Firefighters were required to initially fight the fire defensively until a water supply could be established and they had darkened down the garage and exterior body of the fire. An additional complication was the presence of live power lines down in the backyard. As the fire attack transitioned to the interior, firefighters found the attic space to be fully involved. Access to the attic was complicated by the construction features added to the home over the years and the instability of the rear of the residence due to fire damage. The fire was declared under control after approximately an hour and a half.
The residence of origin suffered significant fire, smoke and water damage to its entirety and is likely a total loss. The residence to the south suffered significant fire damage to its exterior. The residence to the north suffered minor heat and smoke damage and burned sections of wood fence. One passenger car was a total loss and a second passenger car suffered heat damage to the front of the vehicle.
All occupants were able to safely evacuate and no injuries were reported as a result of the fire. Several firefighters were evaluated for heat stress on scene, however no additional treatment was necessary. The Liberal Area Coalition for Families is aiding the displaced occupants of the home.
Liberal Fire responded with thirteen personnel, two engines, a ladder truck & two support / chief officer vehicles. Seward County responded with six personnel, three engines / tankers & one chief officer vehicle. Other agencies assisting with the fire are the Liberal Police Department, Southern Pioneer Electric, Black Hills Energy, Liberal Area Coalition for Families, Liberal Water & Building Departments and the Liberal / Seward County Emergency Communications Center. Additionally, the fire departments would like to say thank you and acknowledge the efforts of the Torres and Luman families. Their assistance in providing hydration and cooling supplies to emergency personnel operating at the scene over three hours was invaluable and greatly appreciated.