Residential Fire – 910 N. Prospect Ave.
Joe Denoyer - October 1, 2020 10:03 am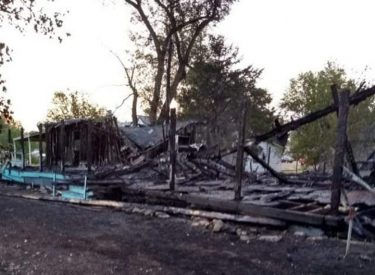 At 2:21 am Thursday the Liberal Fire Department was dispatched to 910 N. Prospect for a reported kitchen fire and were informed that all occupants had exited the home.  As units were responding additional reports were given that the 911 caller could see flames venting from the home and responding law enforcement units reported heavy fire & smoke visible from two blocks away.
Upon arrival firefighters encountered a fully engulfed manufactured home. The fire had already spread to an outbuilding and trees on the property.  Additionally, the fire had spread to the South and had ignited trees and threatened to ignite the home on that property.  The fire also threatened a home to the North. A water supply was established and a defensive attack with multiple handlines was initiated to protect exposures and darken the fire down.  The fire was declared under control at 3:10 am.
At the time of the fire the home was occupied by two adults and both were able to escape unharmed.  They were evaluated on scene by Seward County EMS.
The fire is believed to be accidental in nature having originated in the kitchen.  After lengthy overhaul and investigation all units cleared the scene at 5:41 am.
Liberal Fire responded with a total of 13 personnel, two engines, and one utility vehicle.  Also assisting at the scene were the Liberal Police Department, Seward County EMS, Southern Pioneer Electric, Black Hills Energy & American Red Cross.