Residential Apartment Fire: 520 N Pershing Ave. in Liberal
Joe Denoyer - February 8, 2023 3:53 pm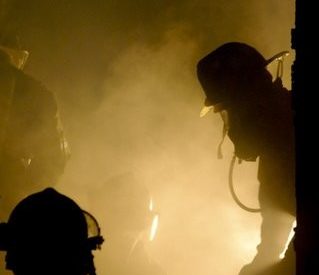 At approximately 11:10 am Wednesday, the Liberal Fire Department received a direct call to the North Station reporting a smoldering towel and smoke in an apartment. One engine initially responded to investigate. Upon arrival firefighters noted heavy smoke from the vents and turbine on the roof of a two-story four-plex apartment building. At approximately 11:13 am a full page for City fire units to a working structure fire was broadcast.
Firefighters made entry to the second floor and began opening the ceiling to fight a well-advanced attic fire. The fire was declared under control at 11:28 am. The fire burned out the attic area over one apartment, fortunately, an adequately constructed fire stop prevented the fire from extending the length of the building and doing further damage. Due to the extent of the damage utilities to the entire building were required to be shut off until their integrity can be assessed. Initially, the residents of all four apartments are displaced. The American Red Cross will be assisting those in need who have lost their place of residence in this fire. The fire was not initially discovered until burning embers fell through a ceiling vent and started a fire on a bath towel. This delay allowed the fire the time necessary to burn undetected and take control of the attic space.
There were no injuries reported during this incident. All occupants in the building at the time of the fire were able to self-evacuate unharmed. The fire is believed to be accidental in nature and to have originated in the attic space. The exact cause is still under investigation. All units cleared the scene and were returned to service at 1:14 pm.
Liberal Fire responded with a total of 12 personnel, two engines, and two support / chief officer vehicles. Other agencies assisting with the fire are the Liberal Police Department, Liberal Water Department, Seward County EMS, Liberal / Seward County Emergency Communications Center, Black Hills Energy, Southern Pioneer Electric & American Red Cross.