Report: Number Of Kansas Farms, Acreage Stable
KSCB News - February 23, 2010 12:00 am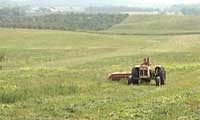 The National Agricultural Statistics Service has released its annual snapshot of the nation's farms and land.
Its report released Friday shows Kansas had 65,500 farms in 2009, unchanged from the previous year.
It also notes that the state has 46.2 million acres in farmland and the average size is 705 acres. Those numbers too are unchanged.
The agency counts as a farm any place where more than $1,000 worth of agricultural products are produced and sold.
The number of farms in the United States is estimated at 2.2 million. That figure is virtually unchanged from the year ago.
Land in farms nationwide was pegged at 920 million acres, down 110,000 acres from 2008.