Report: Half Of Kansas Corn Crop Now Planted
KSCB News - May 4, 2010 12:00 am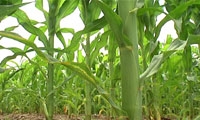 Kansas Agricultural Statistics Service reports that half of the Kansas corn crop has now been planted.
In a new report Monday, the agency said corn planting is further along than the 47% normally seeded by this time.
About 3% of the soybean crop and 2% of the sorghum crop have also been planted.
The state's winter wheat crop was rated this week as 13% excellent and 57% good. About 25% was in fair condition, with 5% rated poor to very poor.