Rep. Brian Weber Resigns From The Statehouse
KSCB News - June 6, 2013 9:31 pm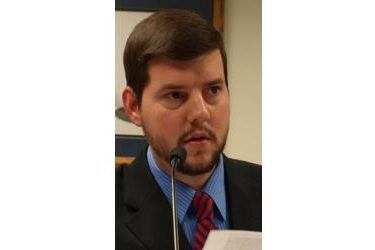 Representative Brian Weber announced he has resigned from the legislature effective on sine die (the June 20th ceremonial last day of session) to take on a larger role in the business he co-owns, and to spend more time with his family. Weber and his wife Alicia welcomed their first child, a daughter named Alise, last summer.
"It has been an honor to represent the 119th District in the Kansas House of Representatives," said Weber, "I have appreciated this opportunity, and the chance to work with all of my colleagues, but I have decided to resign to allow myself more time to spend with my family, and to focus on our growing business."
Rep. Weber was first appointed to the legislature in December 2010 to fill the seat previously held by Secretary of Commerce Pat George. He was then reelected in November 2012, chosen by his colleagues in the GOP to serve as House Majority Whip, and was appointed by Speaker Merrick to serve as chairman of the Social Services Budget Committee. Prior to joining the legislature Weber served as the vice mayor of Dodge City and on the city commission.
Weber is a co-owner of Weber Refrigeration & Heating, Inc., a company his parents started out of their home in 1980 that now has over 50 employees and branches in Dodge City, Garden City, Liberal, Ulysses, and Guymon, Oklahoma.