Redskins Withstand Guymon in a Marathon
Brock Kappelmann - September 4, 2021 7:37 am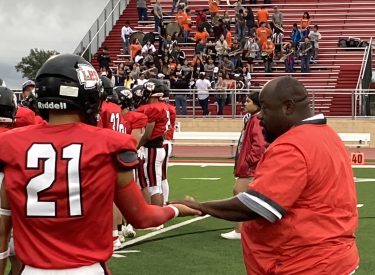 It was a long night.  In a game which started at 7:35 after a storm delay, the Liberal Redskins defeated the Guymon Tigers 56-16 at 11 pm Friday night.  Liberal led 36-0 at the half and jumped to a 43-0 lead early in the second half.   Easton Zapien rushed for 156 yards and Hunter Huskey ran for 136 yards in the win.
Huskey began the scoring with a 40 yard touchdown run at the 8:14 mark.  Brooks Kappelmann threw a 66 yard touchdown strike to Izzy Rotolo with 4:29 to play.  Logan Miller forced a fumble which Aidan Schwindt recovered.  Kappelmann found Shay Kerr and Zayden Martinez for a pair of two point conversions.  It was 16-0 Redskins after two.  Shay Kerr blocked a Guymon punt near the north endzone leading to a Huskey five yard touchdown run to make is 22-0 at the 9:35 mark.  An Eason Zapien 26 yard TD run made it 30-0.  A Huskey 31 yard run led to hit own one yard plunge for the 36-0 lead.  Guymon's Damian Ozaeta picked off a Kappelmann pass toward the end of the half.  It was 36-0 Redskins at the half.
Liberal fumbled early in the second half and Guymon's Kyan Rice recovered.  Shay Kerr intercepted a pass for LHS to regain possession.  Hunter Huskey's 30 yard run gave the Redskins at 43-0 lead with 8:34 to play.  Then, it was a barrage of Redskin penalties.  Guymon quarterback Carson Martinez found Randall Coble for a 15 yard score.  Guymon got the two to make it 43-8.  Guymon then recovered another Redskin fumble.  But again Kerr saved the day with his second interception of the night.  A Liberal safety on a low snap on a punt attempt made it 43-10.   Aidan Schwindt intercepted a pass with 1:01 to play in the third.  After a significant leg injury to Schwindt, Martinez ran it in from two yards out for the Tigers to make it 43-16.  Easton Zapien tacked on TD runs of 16 and 24 yards.  Zapien was the Epic Touch Player of the Game.
Liberal gained 433 yards and Guymon had 185 yards.
The Redskins win their 21st straight against the Tigers.  Guymon defeated Liberal 35-0 in 1989.  Liberal plays at Dodge City Friday night at 7 with Redskin Pregame at 6 on 1270, 92.3 FM, and kscbnews.net.  Guymon hosts Elk City for the home opener Friday.