Redskins Win Turnover Tussle in Guymon
KSCB News - September 13, 2014 7:32 am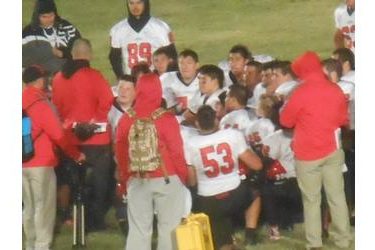 Liberal committed five turnovers but grabbed five Guymon turnovers in a 41-6 LHS win at Guymon Friday night. Liberal overcame four first quarter turnovers as Guymon had no answer for Rex Heronemus who rushed for 197 yards while the LHS defense held the Tigers to 135 yards of offense.
Guymon recovered fumbles at there own 41, and the LHS 29 and 24 but did nothing with those gifts. Bailey Homan returned a Jerad Hasik interception about 30 yards for a score at the 2:30 mark of the first quarter to lead 6-0. LHS responded and finally held onto the ball as Heronemus took a carry 41 yards into the south endzone to make it 6-6. Hasik found Tommy Cole for the two point conversion to give LHS an 8-6 advantage at the end of one. Hasik's 13 yard TD pass to Dane Friederich into the north endzone gave the Skins a 15-6 lead. It is Liberal's only pass completion this season. Tra Clay intercepted a Guymon pass with 40 seconds remaining in the half. Clay pulled a 35 yard field goal attempt at the end of the half.
Guymon gave up two interceptions for touchdowns and four turnovers in the third quarter. Mershek Wiltshire picked off a pass for a score and a 10 yard return before Alan Fraire's pick six and 25 yard return made it 27-6 with 7:17 to play in the third. Both point after attempts failed. Tommy Cole forced another Guymon fumble on the next possession. A 28 yard run by Heronemus set up a Hasik two yard sneak with 2:14 to go in the third to make it 34-6. Guymon's Lane Martinez forced Liberal's fifth turnover of the night stripping the ball from Rex Heronemus. Rex's 60 yard run in the fourth quarter set up Liberal's final score on a Hasik sneak with 8:17 to play to make it 41-6 before Liberal brought in their JV. Liberal is 1-1 and has defeated the Tigers 15 straight times. Guymon is 0-2 and has lost 12 straight.
The Redskins play at 2-0 Hays Friday night at 7 for the WAC opener. Redskin Pre-game begins at 6 on 1270 and kscbnews.net.