Redskins Win Homecoming Heart Stopper
Brock Kappelmann - October 9, 2021 7:59 am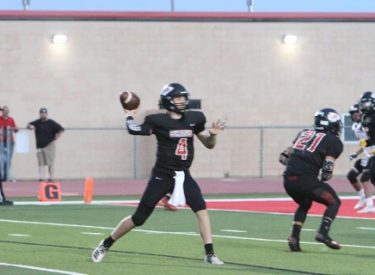 The Liberal Redskins won their homecoming game Friday night in heart stopping fashion.  Brooks Kappelmann found Zayden Martinez in the southeast endzone with 34 seconds left to bring Liberal within one at 21-20.  Liberal went for two and the sophomores hooked up again as Kappelmann found Martinez on a crossing pattern in the front middle of the endzone to send the big Redskin Field crowd into pandemonium.
It was a tight game throughout.   Great Bend gained 47 on a 3rd and 49 to keep the drive alive which ended in a Cayden Scheuerman eight yard TD pass to Colton Brack for the score and a 7-0 Great Bend lead with 6:21 to play in the first.  Hunter Huskey bullied his way up the middle and then bounced left for an 84 yard TD run at the 6:00 mark.  Kappelmann found Martinez for the two point conversion for some foreshadowing and an 8-7 lead.  That lead stood through halftime.
Zayden Martinez intercepted a Great Bend pass for the game's first turnover with 6:33 to go.  But Liberal struggled offensively throughout the third quarter.  Great Bend's Cody Miller ran it in from seven yards out with 20 seconds left in the third for the 14-8 lead.  But Izzy Rotolo's tight rope walking 95 yard kick return for a score with six seconds left in the third quarter tied the game at 14-14 as Liberal's two point attempt failed.  Scheuerman's quarterback sneak gave the Panthers at 21-14 lead with 9:06 to play.  Liberal's final drive included a 26 yard scramble by Kappelmann on a 4th and 9.
Hunter Huskey carried the Redskin offense with 151 yards rushing.  He was slowed in the second half by an injury as he played mainly defense only in the second half.  Liberal gained 268 yards and Great Bend had 311.
Liberal claims just their second home WAC win since 2008 but their second in as many seasons.  It's the Skins first home win over Great Bend since at 55-21 win in 2000 on a grass field.  Liberal is 3-3 and finishes 1-3 in the WAC.  Great Bend is 0-6 and has lost 14 straight.  Liberal hosts #3 Kapaun Friday night with pre-game at 6 and kick off at 7 on 1270, 92.3, and kscbnews.net.