Redskins Win Great Bend Meet
KSCB News - April 13, 2011 7:14 am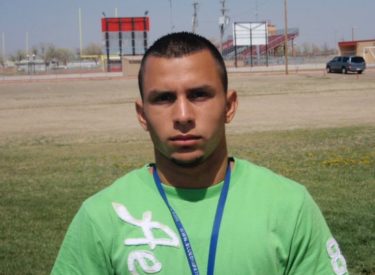 Liberal is batting one thousand. The Redskins won their third meet in as many tries in Great Bend Tuesday despite an off day from the number one ranked hurdler in the state. Despite being ranked number one in 5A in the 110 and 300 hurdles, Adebayou Braimah didn't win either race and Liberal still won the meet. Liberal scored 139 for first followed by 2. Great Bend (107), McPherson (100), Dodge City (94.5), Hoisington (59.5), and Hutchinson (56). Isaac Gallegos won the 400 and the 200. He teamed with Michael Sena, Adebayou Braimah, and Alejajandro Avila to win the 4×400. Liberal's 4×800 relay team took gold with Alan Grajeda, Alejandro Avila, Eric Minjarez, and Fidel Munoz. Second place finishers for LHS Tuesday included Slader McVey in the javelin competition, Angel Viveros in the two mile, Justin McPhail in the shot put, and Trenton Hammond in the 110 hurdles. Third place finishers included Braimah in the 110 hurdles, Trent Hammond in the 300 hurdles, Cody Smith in the pole vault, Trent Wilson in the high jump, and Justin McPhail in the discus.
The Liberal girls took sixth but had some very strong performances. Dodge City won the meet with 120 followed by Great Bend (115), Hutchinson (84), Hoisington (82), McPherson (74), and Liberal (65). Liberal's Caitlin Bauer won the discus with second place finishes in the shot put and javelin. Destyni Lucero took second in the two mile and the mile. The 4×800 relay team won first with Kim Francis, Holly Hinkle, Katie Moree, and Mercy Perez.
Liberal competes at Holcomb on Good Friday.