Redskins Win First Playoff Game in 19 Years
Brock Kappelmann - October 28, 2023 7:39 am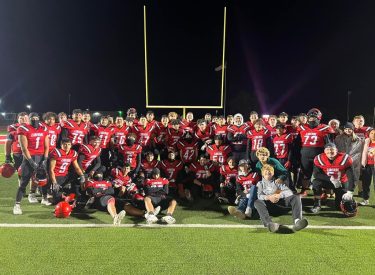 The the first time in 19 years, the Liberal Redskins are advancing in the state playoffs.  And they did so in dominant fashion in a 44-0 win over the visiting Newton Railers Friday night at the Gary Cornelsen Sports Complex.  The Angry Red defense held Newton to 126 yards.
Liberal scored first.  Ivan Moreno ran into the north end zone from eight yards out at the 5:29 mark.  Marco Alonso's PAT made it 7-0.  Brooks Kappelmann scrambled right and then left to find Xavier Tafoya in the back of the end zone for a 14-0 lead after the Alonso PAT with 10:51 to play in the half.  Brooks Kappelmann found James Fieser on a quick slant and Fieser drug Railers into the end zone for the 14 yard score and the 20-0 lead.  That was the halftime score.  Liberal took the first drive down the field and Brooks Kappelmann floated a touchdown pass to Erek Lira for a 21 yard score to make it 26-0.  Brooks Kappelmann scrambled left for a 12 yard score to lead 32-0 with 4:34 to play.  Adan Amador intercepted a pass.  Xavier Porras 22 yard touchdown run with 1:15 remaining in the quarter made it 38-0.  That was the score at the end of three.  Blayden Betts three yard touchdown run was the only score of the fourth quarter.
Liberal had lost 14 straight playoff games since their 2004 playoff win over Topeka Highland Park 24-14 on a Saturday afternoon at Liberal.  It's Liberal's first shut out since a 27-0  win over Topeka in week three of last season.
The Redskins amassed 535 yards.  Liberal rushed for 264 yards.  Brooks Kappelmann was 14-17 for 271 yards with three touchdown passes. Xavier Porras had 12 carries for 82 yards and a touchdown.  Ivan Moreno had nine carries for 79 yards and a touchdown.  James Fieser had five catches for 105 yards and a touchdown.  Zayden Martinez had three catches for 93 yards.
Newton finishes 3-6.  Liberal is 8-1 for the first time since 2003.  Eight wins is their most since 2004 when they went 8-3.  The Redskins host the 4-5 Maize Eagles Friday night at 7pm in the Gary Cornelsen Sports Complex.  Maize won at Goddard 31-22 Thursday night.  The game will air on 1270 and 92.3 with Redskin Pre-game at 6pm.