Redskins Win Baseball Regional for First Time in 23 Years
KSCB News - May 22, 2015 7:17 am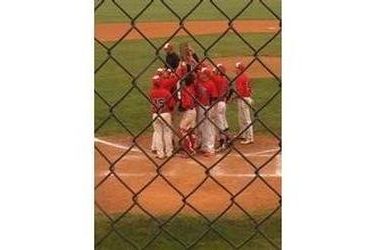 Fans flooded the field after Liberal rallied to win a regional title Thursday evening 6-2 over Goddard Eisenhower. The Redskins thrilled a large and vocal fan base at the National Beef Family Sports Complex with their first regional title since 1992.
In the Eisenhower win, the Redskins rallied from down 2-0 to win. Jared Hasik (7-1) retired the last 14 men he faced for the win. He allowed three hits but just one hit after the first inning. Eisenhower, a program who had been to state the past two season, scored a run on two hits in the first. Braden Minor, who verbally committed to Oklahoma, launched a home run over the left field fence in the third to make it 2-0. LHS scored in the third as Sylman Pando singled home Kaiden Bigham. Liberal's big inning was the fifth. Tim Fitzgerald led off the inning with a single up the middle. Pando laid down the sacrifice bunt but a throwing error on the third baseman allowed runners at second and third with no outs. Hasik singled home Fitzgerald to tie it and Cole Evans singled home Pando for the 3-2 lead. Kaiden Long's sacrifice fly scored Hasik to make it 4-2. Angel Archuleta singled home a run to make it 5-2 and a wild throw home and an ensuing low throw to second allowed a sixth run to score to make it 6-2. Sylman Pando was 2-3. Liberal out-hit the Tigers 7-3. Eisenhower had two errors while Liberal played flawless defensively. The clinching out was a ground ball to shortstop Sylman Pando who threw to first for the clinching out. It was a cool evening with temperatures in the high 50's but the mood certainly warmed hearts in Liberal after the win.
In game one, Cole Evans (6-2) pitched the distance and did not allow an earned run in a 4-2 win over Andover. Evans allowed just three hits and LHS had two hits. The Trojans had three errors and lHS had two errors. Neither team scored an earned run. Upset minded Andover scored one in the first. The game changed in the bottom of the second when Liberal's Cristian Erives lined the ball off Andover ace and Butler signee Landon Fry knocking him out of the game. Liberal scored three the next inning (3rd). Kaiden Long reached on an error before Archuleta walked and Kaiden Bigham laid down a sacrifice bunt but the pitcher fired to second and Jacob McCarter reached second safely ahead of the throw to load the bases with no outs. Sylman Pando sizzled a two RBI single past the second baseman and Cole Evans walked with the bases loaded to make it 3-1. LHS added a fifth inning run when Fitzgerald reached on an error and stole second. Sylman Pando's bunt single moved him to third. Zack White lifted a sacrifice fly to score Fitzgerald to make it 4-2.
Liberal is 18-4 and and advances to state for the first time since 1992. They will play Thursday at 6:30 against Topeka Seaman at Eck Stadium at Wichita State on 1270 and kscbnews.net.