Redskins Wake Up in Time to Top Bluejays
KSCB News - February 18, 2015 7:27 am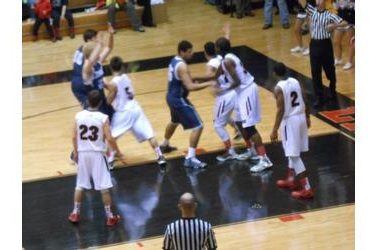 Liberal head basketball coach Scott Hinkle didn't want to hear excuses Tuesday night. After a lackluster 52-43 win over Cimarron, the coach didn't want to hear about the fact that the Redskins hadn't been in school the past two days changing routines. He says the Redskins came out flat several days after a buzzer beating win at Hays and a homecoming date with Great Bend looming Saturday.
The Redskins led 13-8 after one quarter but trailed 18-16 at halftime and trailed 20-16 early in the second half. Liberal rallied and led 29-25 after three and led 52-40 late. Kylan Thomas scored key points late including five of six at the foul line.
Liberal had an advantage at the foul line going 19-28 while the class 3A Cimarron Bluejays were 7-8. Liberal was balanced as Kylan Thomas and Cade Hinkle had 11 a piece while Tim Fitzgerald had 10.
The Skins are 11-6 assuring a winning season for the first time since 2010. Cimarron is 7-12. Liberal hosts Great Bend for homecoming Saturday night at about 7:45 on 1270 and kscbnews.net.