Redskins Top Topeka for First 3-0 Start in 20 Years
Brock Kappelmann - September 14, 2023 11:39 pm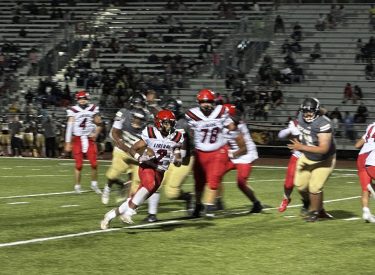 For the first time since a Gary Cornelsen coached team went 3-0 in 2003, Liberal's Redskins have a 3-0 football team.  Liberal played their first ever football game in Topeka and topped the Trojans 51-13.  The Redskins out scored the Trojans 23-6 in the fourth quarter to blow the game open.
A 14 play opening drive by the Redskins was fruitless as Topeka's Carter Joest intercepted a pass with 7:13 to play in the quarter.  Brooks Kappelmann swung a pass to the left to Aidan Schwindt who turned it into a 10 yard touchdown with 1:12 to play in the first.  Brooks Kappelmann found Zayden Martinez on a 15 yard pass floated to the back left corner of the end zone with 8:50 to play in the quarter for a 14-0 lead after the Alonso PAT.  Aidan Schwindt's 10 yard TD run and Alonso PAT made it 21-0 with 3:01 to play.  Xavier Porras intercepted a Topeka pass with 28.6 seconds remaining in the half.  The Skins led 21-0 at halftime.  Tevante Ewing's two yard TD and THS point after made it 21-7 with 8:56 to play in the third.  Liberal answered on the ensuing drive as Kappelmann found Erek Lira for an 18 yard completion on a 4th and eight play.  Xavier Porras capped off the drive with a four yard TD and Alonso point after made it 28-7 Skins with 54 seconds left in the third.  Ivan Moreno's five yard touchdown made it 34-7 before Brooks Kappelmann scampered in for the two point conversion with 10:29 to play in the game.  Xavier Porras followed his offensive line for an 18 yard score.  The Alonso point after made the scored 43-7 with 8:19 to play.  Ewing's three yard TD against Liberal's back ups made it 43-13 with 6:24 to play.  Brooks Kappelmann connected with Zayden Martinez for a 27 yard score with 3:18 to play.  Kappelmann found James Fieser on the two point conversion.
Liberal amassed 531 yards with 275 on the ground and 256 through the air.  Topeka had 247 yards with 172 through the air and 75 on the ground.  Both teams committed turnovers.  Brooks Kappelmann was 18-27 with 256 yard, three touchdowns, and one interception.  He carried 12 times for 100 yards.  Xavier Porras had 14 carries and 60 yards.  Aidan Schwindt had six carries for 55 yards.  Zayden Martinez had seven catches for 117 yards and two touchdowns.  Aidan Schwindt had five catches for 65 yards and James Fieser had five grabs for 58 yards. Ivan Moreno led the Redskins with seven tackles.  Marco Alonso, Erek Lira, Landon Martinez, and Xavier Tafoya had tackles for loss.  Lira registered a sack.  Marco Alonso was 5-5 in PAT's.
Topeka is 0-3 and LHS is 3-0.  The Redskins play at Dodge City Friday night at 7pm on 1270 and 92.3.  The Rowdy Crowd Show returns Thursday night at 5:30 on 1270 and 92.3.