Redskins Top Hugoton but Lady Skins Fall Short
KSCB News - January 25, 2014 7:49 am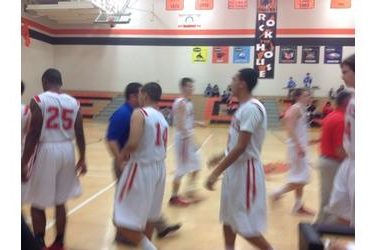 Liberal coach Scott Hinkle shuffled the lineup in an attempt to find a spark from his LHS boys basketball team. For one day, it worked. The Redskins started two freshmen, two sophomores, and a junior with seniors coming off the bench in a 60-47 win over Hugoton Friday night in the Orange and Black a Classic in Colby. The change is the coach's answer for what saw as a lack of effort the night before In a 66-35 loss to Palmer Ridge.
Jared Hasik scored 14 to lead the Redskins who led 15-6 after a quarter and 25-12 at halftime. LHS used a 15-0 run to build their lead. The Eagles, who beat Liberal 46-41 last year, cut the Redskin lead to 37-30 a after three. But it was a tough shooting night for HHS who was 1-10 from three point range. Jeison Rodriguez had 14 in the loss as the Eagles fall to 5-6. Hayden Coker and Cade Hinkle added eight a piece. Coker was active defensively with numerous blocked shots.
LHS snaps a three game losing skid and is 3-7. The Skins face Colby at 2 Saturday on 1270 and kscbnews.net.
The LHS girls struggled offensively and in rebounding in a 34-25 loss to Colby in the Colby Community Building. Liberal led 13-9 at halftime. Jada Mickens scored seven in the loss as LHS falls to 4-6. The Lady Skins play Hugoton Saturday at 4 for third place in Colby on 1270 and kscbnews.net. Palmer Ridge beat the Lady Eagles 52-36.