Redskins Take Second at Opener in Borger
Brock Kappelmann - September 6, 2016 6:23 am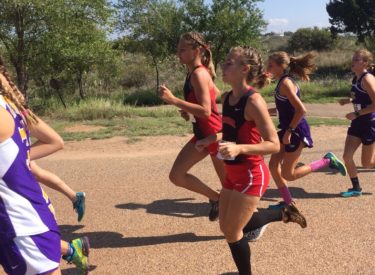 The Liberal Redskin cross country teams opened their season Saturday at the Borger Invitational competing against 17 schools from Texas, Oklahoma, and Kansas.
The JV girls started the morning off for the Redskins with a second place team finish led by four individuals taking home a medal who were Chloe Alling 4th, Gisselle Melendez 13th, Kayla Gokey 15th, and Ali Lucero 16th. Perrton JV won the girls race.
The boys JV were led by 5 medalists who were Fausto Parral 4th, Alejandro Molina 7th, Cory Nguyen 11th, Joel Berumen 18th, Merrick Dodge 19th, and Aaron Vengas 20th. The JV boys ended with 59 points which earned them a third place team finish behind Randall High School with 23 and Perryton with 51.
The Varsity girls' race covered a two mile distance for the first competition for the Redskins while most teams competing were in their second or third competition of their season. Senior standout Camryn Slatten started her last season as a Redskin with a third place finish in 12:08. Slatten made a strong push in the final stretch to catch the Strafuss sisters from Dalhart who finished 1st and 2nd. As Slatten is finishing her final season in a Redskin uniform, freshman teammate Katie Horyna made her cross country debut with an impressive performance. In Horyna's first cross country race at any level she completed the course in 12:36 and a 5th place finish. Slatten and Horyna both moved their name into the LHS record books for the 3K distance. Kansas girls ran a 3K on a regular basis until 2006 when they changed to a 4K, and then in 2015 moved to a 5K. Slatten now has the #3 fastest time in LHS history, while Horyna has the #6 fastest time in school history. Senior Yanelly Jurado was the 12th runner to cross the finish line in 13:08. Junior Kelsey Ramsey completed the course in 13:19 to medal in 17th place. Senior Saw Ahmara was the fifth scorer for the Redskins placing 23rd with a time of 13:32 making all of Liberal's top five runners making the medal stand. Junior Alondra Alvarado and freshman Erika Valverde rounded out the Redskin varsity runners in 53rd and 85th place with times of 14:06, and 14:49. The Lady Skins finished the day with 56 points in second place just behind 4A Texas power house Dalhart with 46 points. Third place was Perryton, Texas with 109 points.
The varsity boys' team competed at the 5K distance. The sophomore quad of Antonio Borunda, Joel Obondo, Javier Carrillo, and Xavier Perez paced the Redskin team. Borunda was the 8th runner to complete the course in 17:46. Obondo was tenth with a time of 17:54. Carrillo's time of 17:57 was good enough for 13th. Perez, in his first cross country race, was 27th with a time of 18:56. Junior Dusty Torres was the fifth runner for the Redskins placing 29th in 19:04. Sophomore Josh Diazdeleon and junior Austin Mullens were the 6th and 7th varsity runners placing 33rd and 46th with times of 19:09 and 19:50. After the team scores were tallied Randall High School out of Texas took the team title with an impressive 32 points, while the Redskins took second with 66 points. Perryton, Texas was third with 96, and Canadian, Texas was 4th with 135 points.
The Liberal Redskin cross country runners will compete Thursday in Hesston, Kansas where 48 teams across the state are entered to compete.