Redskins Sweep Great Bend in WAC Opener
KSCB News - April 8, 2015 7:26 am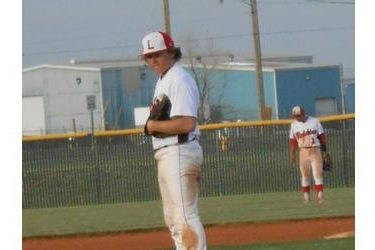 Liberal's baseball Redskins swept Great Bend 3-1 and 8-6 at the Liberal Baseball Complex Tuesday. Liberal begins the season 6-0 and has won four of the past five over the Panthers.
Liberal won a tight 3-1 decision in game one scoring one in the first when Tim Fitzgerald doubled and Sylman Pando singled him home. The Redskins scored two more in the second when Fitzgerald singled home two. Cole Evans pitched six strong innings allowing four hits and allowing one run. Jared Hasik pitched the seventh for the save. Fitzgerald, Pando, and Angel Archuletta had two hits a piece.
Liberal build a 7-0 lead and then held on to win the second game 8-6. Liberal scored one in the first when Jared Hasik singled home Lorenzo Pando. In the third, Cole Evans singled home two runs and Kaiden Long hit a sacrifice fly scored a third run. A dropped fly ball scored a fourth run to make it 5-0 Redskins. Hasik singled home two in the fourth to propel LHS to a 7-0 lead in the fourth. The Skins struggled on the mound in the fifth walking four and hitting one allowing four runs to score on two hits. A Fitzgerald sac fly scored a run in the fifth to make it 8-4. Great Bend added two more runs but.
Hasik pitched 4.6 innings allowing four runs and Kaiden Bigham pitched 1.3 innings allowing one run and Kaiden Long worked the seventh allowing one run. Liberal out-hit the Panthers 9-6 and both teams had two errors. Hasik was 3-3 with three RBI's and Evans, Fitzgerald, Pando, Cristian Erives, and Bigham had two hits a piece.
The LHS JV beat Great Bend 13-3 and 4-3.
Liberal is 6-0 and 2-0 in the WAC while Great Bend is 1-3 and 0-2. Liberal hosts Guymon Friday for one varsity game at 4.