Redskins Struggle in Season Ending Loss
KSCB News - May 19, 2010 12:00 am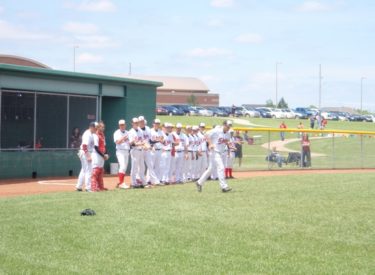 Liberal committed seven errors, allowed one earned run, and stranded 13 runners on base in a frustrating 5-1 loss to Ark City at regionals Tuesday afternoon at Andover Central. Tyson Deaton pitched five solid innings allowed one earned run and Kyle Potts worked two scoreless innings. Ark City (12-9) scored one run on one hit and three Redskin errors in the third. The Bulldogs scored four runs on four hits and an error in the fourth. Liberal scored in the sixth when Freddy Gomez singled home Daulton Rutledge. Gomez was 2-4. Liberal drew eight walks and loaded the bases in the second, fourth, and seventh without scoring.
LHS head coach Eric Olmstead says it was a tough day for the Skins. "I thought overall Tyson Deaton and Kyle Potts pitched extremely well," Olmstead says after his team won 13 for the fourth straight year. "We couldn't make a routine play. They were routine plays we've been making all season. We also had bad timely hitting. We didn't do much. We didn't earn the win."
Liberal finishes 13-8 for the second consecutive year and third time in four years. It was the fifth time in six years Liberal played Ark City in regionals.