Redskins Storm Back to Beat Great Bend
Brock Kappelmann - October 20, 2020 6:42 am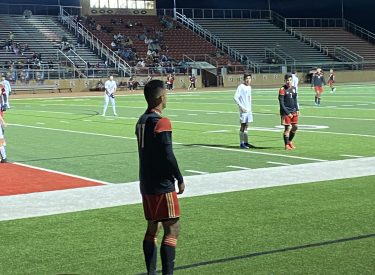 Trailing 3-1, the Liberal soccer team stormed back to beat the Great Bend Panthers 4-3 Monday night at the Gary Cornelsen Sports Complex.  It was the last regular season home game for the Redskins.  LHS went on a 3-0 run in 26 magical minutes of soccer in the second half.
The visiting Panthers scored first.  Great Bend scored at the 28:54 mark.  The Panthers found the back of the south net again at the 17:14 mark to lead Liberal 2-0.  A.J. Ramirez scored with 18:10 remaining in the half to get the Skins on the board and trailing 2-1 which was the halftime score.  The Panthers quickly reclaimed a two goal lead by scoring 4:39 into the second half.  Liberal scored with about 29 minutes remaining as Alfredo Lopez scored with an assist from A.J. Ramirez.  Angel Munoz punched in a beautiful cross by Ramirez to tie the game at 3-3 with about nine minutes left.  Alfredo Lopez  gave the Redskins the lead with 3:12 to play.
The Redskins are 8-2 overall and 5-2 in the WAC.  Great Bend falls to 5-8 and 3-5 in the WAC.  The two teams split the season series.  Liberal has won seven straight and plays at WAC champion Dodge City on Thursday at about 6:30 at Dodge City Memorial Stadium.