Redskins Steal One in Guymon
KSCB News - December 7, 2011 7:21 am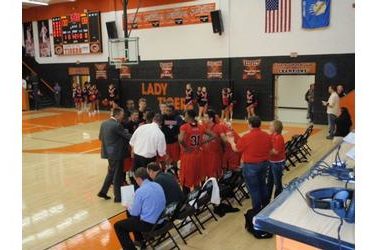 Liberal never gave up and it paid off. The Redskins trailed by 13 (48-35) in the fourth quarter and were behind six (55-49) with 1:51 to play, but rallied to win 61-60 in Guymon Tuesday night.
Osvaldo Villareal hit a left corner three pointer with three seconds left to give Liberal their first lead since the first quarter and a 61-60 lead. Villareal also landed a left-wing three pointer with :27.6 left to make it 57-55 Guymon. A DeVondre Livingston three from the top of the key made it 59-58.
Livingston led Liberal with 19 points while Kenlee West scored 18 for the Redskins. Villareal scored nine on three 3-pointers.
Liberal raced out to an 8-0 lead before the Tigers, playing in their home opener in front of a big crowd scored the next 10 to make it 10-8 Tigers. GHS led 14-12 after one quarter and led 31-23 at the half. The game seemed to be in Guymon's control. The Tigers led 35-25 early in the third quarter and 40-33 after three quarters. The biggest Guymon lead was 48-35 early in the fourth quarter.
Guymon's Mathew Legrange led GHS with 15 while Alfredo Garcia scored 14 and Garret Marler scored 12.
Liberal hosts the Conestoga/Community Bank Classic Friday and Saturday nights against Lawton and Bartlesville. Friday's game will be the normal starte time of about 7:50 (or right after the 6 p.m. girls game) with Saturday's game at about 6:50. The games will air on Talkradio 1270.