Redskins Split with Buffaloes in Garden City
Brock Kappelmann - April 17, 2019 7:27 am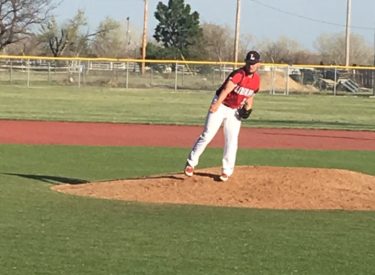 Hopes of winning a third straight WAC baseball title are flickering after a split in Garden City on Tuesday.  The Buffaloes won the first game 5-4 and the Redskins took game two 6-2 at Lightner Field in Garden City Tuesday afternoon and evening.
In game one, the Redskins struggled in several facets.  They had only five hits and only scored four despite eight GCHS walks.  Liberal used three pitchers including ace Braxton Hyde and number two starter James Armstrong.  Hyde went 3 and 2/3 innings scoreless.  Both pitchers stayed at and under the 60 pitch limit to be eligible to pitch on Friday when the Redskins play at Alva.  Liberal scored first when Syris Dunlap ripped a triple to right.  He scored on a Javy Bojorquez single.  Liberal kept the game scoreless in the second as Dunlap made a great diving catcher diving to his left on the warning track in right center.  Liberal stole a run in the third when Hyde scored from third as Garden City tried to pick off a runner at second.  The bottom of the fourth began innocently enough with two strikeouts.  But a Liberal error opened up the inning and allowed Garden City to tie the game.  LHS regained the lead in the fifth as Dylan Thompson grounded out but drove home a run.  GCHS tied it in the fifth.  Liberal took the lead at 4-3 in the seventh.  Hyde singled home Dunlap on a wind blown pop up to right.  With two more runners in scoring position, Ethan Green ripped a line drive to center but Garden City's center fielder Easton Lager made a great diving catch.  After the first Buffalo in the bottom of the seventh struck out, LHS walked two and allowed a double to left center.  That coupled with an error allowed two Garden City runs to win the game against reliever Kye Purdy.
In game two, the Skins scored two in the second.  Green and Dunlap singled in the inning and Garden committed an error.  Garden made it 2-1 with a run in the second against starter Brodie Warren.  Garden scored in the third to tie the game.  LHS took a 3-2 lead with a run in the fourth as Dunlap singled home Thompson.  In the fifth, the Redskins scored three.  Bojorquez singled with one out and Hyde reached on an error.  Green singled home a run to make it 4-2.  Thompson grounded out to make it 5-2.  Rodney Pando pushed a squeeze bunt to first to make it 6-2.  Bojorquez pitched three scoreless innings with five strikeouts.  Pancho Terrazas closed it out on the mound.
Liberal is 7-3 and 3-2 in the WAC.  Garden City is 7-4 and 3-4 in the WAC.  Liberal plays Newkirk and Alva in Alva on Thursday before facing Perry and Crossings Christian Friday in Alva.
Game 1 audio:
Game 2 audio: