Redskins Soccer Train Keeps Rolling
KSCB News - September 2, 2010 12:00 am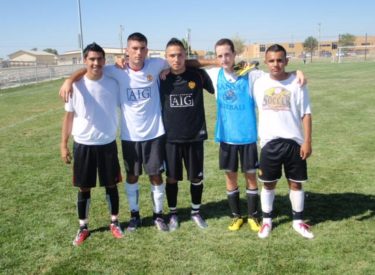 The Liberal soccer team opens the season as the second ranked team in class 5A. It's a distinction the Redskins earned because they are a constant 5A soccer force, advancing the the final four seven of the past eight seasons. And they are ranked second because they only lose two seniors from last year's 17-4 team. The Redskins return all of their offense and lose two defenders from last year's team who finished third in 5A for a second straight season. Lori Navarro enters her 13th year as head soccer coach with 54 boys out for soccer.
Some of the key Redskins include: jr. forward Eduardo Moreno who was all state last year, sr. goalie Frederic Gomez, jr. left midfielder Auden Portillo, sr. stopper Joe Pena, jr. center midfielder Isai Gutierrez, and senior defender Jared Hall.
Liberal won their 9th straight WAC title last year but shared the conference with Dodge City. The Red Demon games will be red lettered on the Redskin schedule but so will a potential matchup with the number one team in 6A Maize at the Wichita South Titan Classic. The Skins also face Blue Valley West in Maize this year. Liberal opens at Great Bend Thursday.
2010 Schedule
September
2
@ Great Bend High School (V/JV)
4:00 PM
September
6-11
@ Wichita South Titan Classic (V) TBA
September
14
Dodge City High School (V/JV)
4:00 PM
September
16
Garden City High School (V/JV)
4:00 PM
September
18
Liberal JV Tourney (JV)
9:00 AM
September
24
@ Blue Valley West High School (V/JV)
4:30 PM
September
25
@ Wichita North High School (V/JV)
1:00 PM
September
30
Hays High School (V/JV)
1:00 PM
October
5
@ Garden City High School (V/JV)
4:00 PM
October
7
@ Hays High School (V/JV)
1:00 PM
October
11-16
@ Wichita North Cup Tourney (V)
3:30 PM
October
18
Great Bend High School (V/JV)
Senior Recognition
4:00 PM
October
21
@ Dodge City High School (V/JV)
4:00 PM
October
25-30
Regionals (V)
TBA
November
2
Quarterfinals (V)
TBA
November
5-6
State (V)
TBA