Redskins Soar Over Eagles to Make State
KSCB News - March 5, 2016 6:18 am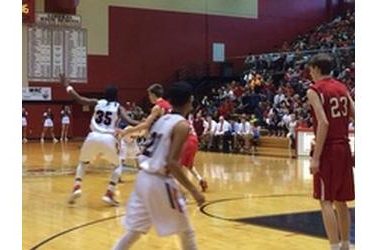 Liberal's storybook season still has life. The Liberal Redskins shrugged off the Maize Eagles making nine of their first 10 three pointers to rally to a 61-55 victory Friday night in front of a raucous Big House crowd. Liberal celebrated on the court with their fans after the game and cut down the net celebrating their first trip to state since 2012. It's the first time LHS qualified for state on their home court since Scott Hinkle coached Liberal to a win over Bishop Carroll in 1998.
Maize came out firing on all cylinders taking a 16-11 lead and led the Redskins 19-14 after one quarter. Liberal trailed 27-18. The Skins made three of their final four three's to end the first half and make it 33-27 at halftime. Maize picked up where they left off in the second half. The Eagles buried two more three's and led 38-27 with 5:53 to play and 43-31. The Redskins went on an 8-0 run to trail 43-39 at the end of three. The Redskins cut the lead to 47-45 with six minutes left and tied the score at 47-47 with five minutes to go. LHS took the lead 49-47 with 4:33 remaining. Maize tied it at 49-49 with 3:05 to play. A Tim Fitzgerald layup with 2:24 to play gave LHS a 51-49 lead. A Cole Evans baseline jumper gave Liberal a 53-49 lead with 1:45 to go. LHS missed seven straight free throws down the stretch and led 53-52 after a Maize three point play. LHS led 54-52 and then 55-52 after a foul and technical foul. LHS led 60-52 after an intentional pushing foul on a lay up by Markalyn Eatmon. Maize hit a three at the buzzer to make it 61-55.
Timothy Fitzgerald, Deladris Green, and Kylan Thomas scored 15 a piece. Cole Evans added nine. Liberal shot 46 percent from the field and made 5-12 three pointers and 12-25 from the foul line.
Liberal is 17-5. It's their most wins since a state team in 2009. Maize finishes 14-8. Liberal will play Wednesday night at 8:15 at the Topeka Expocentre on 1270 and kscbnews.net.