Redskins Scorch Lamar
Brock Kappelmann - August 26, 2018 1:10 pm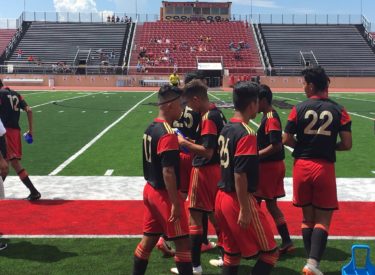 On a scorching hot August afternoon, the Liberal Redskin soccer team burned up the back of the nets. Coming off a 5-13 season, Liberal began their 2018 campaign with a resounding 10-0 win over the visiting Lamar Savages Saturday afternoon at the Gary Cornelsen Sports Complex. It was 94 with a heat index of 99 with very little wind but the field was measured at 164 degrees.  The game was called short due to the mercy rule when the Redskins scored with 33:05 left in the game to end it early.
Mike Fonseca scored seven goals to pace the Skins. Christian Sobalvarro, Estevan Dominguez, and Kevin Guerrero scored goals.
Liberal is 1-0 and Lamar is 1-1. The Redskins, who were 1-7 in the WAC last year, begin conference play Thursday at Great Bend against the Panthers.