Redskins Save their Best for Last in Sweep of Hugoton
Brock Kappelmann - March 27, 2021 7:53 am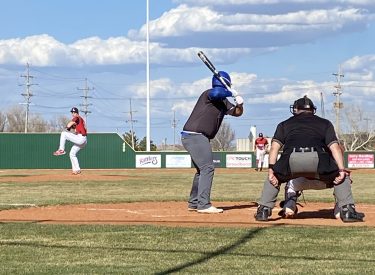 Liberal and Hugoton played two competitive games to begin their baseball seasons Friday afternoon and evening at the National Beef Family Sports Complex.  After rain and snow Wednesday postponed the games on Thursday, the Redskins made it worth the wait taking game one 17-7 in five innings and rallying for a 10-6 game two win.
In game one, the Redskins scored one in the first and four in the second. The Eagles plated four in the third to make it 5-4.  Hugoton took a 6-5 lead with two in the fourth.  Liberal scored two in the bottom of the fourth for a 6-5 Liberal lead.  Hugoton tied the game 6-6 with a run in the fifth.  Liberal scored 10 in the fifth to end the game on a run rule.   Kwame Williams pitched 2 and 2/3 with six strikeouts.  He allowed three earned runs.  Braden Holder went 2 and 1/3 innings allowing two earned runs.  Archuleta was 3-4 with five RBI's in the win.  Izzy Garcia-Rotolo scored four runs and was 2-4.  Oscar Rubio, Braden Holder, and Shay Kerr added two hits a piece.  Mendoza and Littell had two hits a piece for Hugoton.
Hugoton led during most of game two.  The Eagles jumped on Liberal for four in the first before the Redskins scored three in the bottom of the first.  The Eagles plated two in the third for a 6-3 lead.  That was the score until the bottom of the fourth.  Carlos Campos cleared the bases with a three RBI double over the left fielder's head.  That tied the game.  Liberal added three in the sixth.  The Skins did not allow a run after the third.  Hunter Huskey threw smoke in relief going 2 and 2/3 scoreless innings with six strikeouts and two walks.  Aaron Barboza started and went four innings with four strikeouts, one walk, and two earned runs.  Liberal committed four errors.  Korf pitched 3 and 1/3 for Hugoton allowing one earned run.
Liberal is 2-0 and Hugoton is 0-2.  The Redskins host Garden City for a varsity game at about 6 Tuesday night on 1270 and kscbnews.net.