Redskins Run Wild in Shutout at Emporia
Brock Kappelmann - September 9, 2022 11:11 pm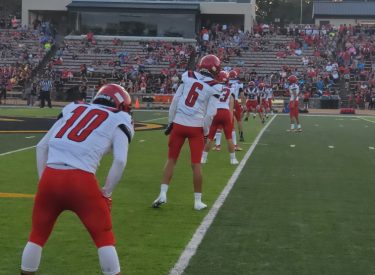 The Liberal Redskins are 1-1 after putting up 689 yards of offense and pitching their first shutout in three seasons in a 53-0 win over the Emporia Spartans at Welch Stadium in Emporia.  J. Brooks Kappelmann tossed five touchdown passes and Zayden Martinez hauled in four of the scoring strikes in Liberal's high flying win.  But the defense was equally impressive holding Emporia to 179 yards and shutting out a team for the first time since a 69-0 win to open the 2019 season.  This was coach Bryan Luetters first win at Redskin coach.
The Redskins led 7-0 after one quarter after Kappelmann found Zayden Martinez for a 26 yard score.  Martinez eluded two defenders after the catch for the score.  Brooks hit Zayden on a quick slant which went 73 yards for a scored at the 11:07 mark of the second quarter for the 14-0 lead after the Danny Landa PAT.  Trystian Juarez 71 yard run up the middle made it 20-0 with 9:04 to play.  Adan Amador intercepted a second quarter pass.  Liberal's biggest blemish of the first half came in the form of three turnovers (two fumbles and one interception).
The Redskins first drive of the second half was fruitless as the Skins went for it on 4th and 1 at their own 29 and did not get the first down.  But after the Spartans advanced the ball to the Redskin three, they did not score as the Skins made a goal line stand.  Kappelmann went right to work finding Martinez for an 86 yard TD.  Aidan Schwindt then intercepted a pass.  Kappelmann found Martinez for a nine yard strike and the 33-0 lead.  Kappelmann found Izzy Rotolo for a 50 yard TD.  In the fourth quarter, Alex Schwindt intercepted a pass and Ivan Moreno ran in a five yard score.  Alex Schwindt's 48 yard TD run was the final score of the night.
Kappelmann was 14-21 for 436 passing yards which were the most since Britton Abbott's 468 passing yards against Ulysses in 2013.  Liberal amassed 698 yards that night.  Zayden Martinez had five catches for 210 yards.  Izzy Rotolo had eight grabs for 189 yards.  Trystian Juarez had 11 carries for 135 yards. Ivan Moreno had six carries for 67 yards.  Trystian Juarez had 13 tackles and Julian Harvey had 11 tackles.
Liberal is 1-1 and hosts 0-2 Topeka Friday night at the Gary Cornelsen Sports Complex. Pre-game at 6pm on 1270 and 92.3.   Emporia is 1-1.