Redskins Run Rule Red Demons in Home Finale
Brock Kappelmann - April 10, 2019 7:23 am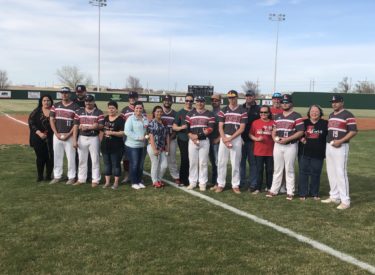 The Liberal baseball team finished their home season with a 11-1 win over the Dodge City Red Demons Tuesday night.  The game was a five inning run rule on a night with temperatures unseasonably warm in the 80's at the National Beef Family Sports Complex.
Dodge City scored a run in the second to take the lead.  The Redskins responded with an eight run second inning.  Javier Bojorquez singled and Braxton Hyde walked.  Dylan Thompson singled home a run to tie the game.  Ethan Green laid down a sac bunt.  Brodie Warren walked.  Rodney Pando singled home a run on a pop up to second which was lost in the wind.  Elijah McCarter reached on an error scoring two runs.  Syris Dunlap ripped an RBI double making it 5-1.  Pancho Terrazas followed that up with another RBI double to make it 6-1.  Liberal scored another run on a wild pitch.  Thompson added his second RBI single of the inning to make it 8-1.  Dunlap singled home two in the third.  Terrazas singled home another run.  Dunlap finished 3-3 at the plate with three RBI's.  Thompson and Terrazas added two hits a piece.  Braxton Hyde pitched all five innings improving to 4-0.
The Redskins have won seven of the last eight against Dodge City.  The Skins are 6-2 and 2-1 in the WAC while Dodge City is 6-2 and 0-2 in the WAC.  Liberal plays at Garden City Tuesday on 1270 and kscbnews.net.  The Redskins finish 5-1 at home.