Redskins Round Up the Herd
KSCB News - December 13, 2014 7:55 am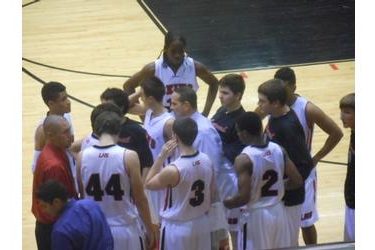 That defense Scott Hinkle has been looking for showed up just in time Friday night. Liberal's defense sparked a 20-4 run to help Liberal rally past the Hereford Herd 70-60 Friday night in the Big House as part of the Conestoga/Community Bank Classic. LHS fell behind 48-41 with 1:57 to play in the third before Hinkle called time out to motivate the Redskins. From that point the Skins catapulted to a 20-4 run to lead 61-52.
The Herd proved to be a wiry, long, and athletic team as they led 17-13 after a quarter. The Redskins built a 30-24 lead only to see the Herd race into the halftime locker room with a 30-30 tie. The Herd nailed three straight 3's to lead 48-41 with 1:57 remaining in the third quarter. But that's when Liberal's run began keyed in large part by defense leading to transition offense.
Cade Hinkle shrugged off a slow start to lead the Redskins with 16 points while Deladris Green scored 14 and Tim Fitzgerald scored 12. Liberal was only 2-10 from three point range but 15-21 at the foul line.
The Skins are 2-1 and play 0-2 Clinton at about 6:15 in the Big House Saturday evening on 1270 and kscbnews.net. Gallup defeated Clinton 66-43 Friday afternoon. Hereford falls to 4-4 and plays Gallup at about 1:15 Saturday afternoon. Hereford is assisted by Tyrone native Tim Bell.