Redskins Roll to Opening Wins in Hugoton
Brock Kappelmann - March 23, 2018 6:45 am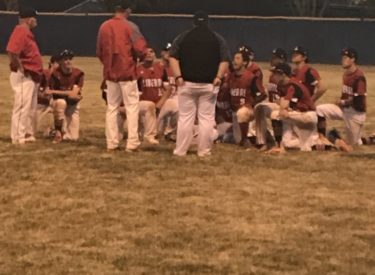 The Liberal Redskin opened their season with two blowout wins in Hugoton Thursday. The Skins prevailed 14-0 and 11-1.
In game one, staff ace Braxton Hyde tossed four scoreless innings with five strikeouts. Max Valles added a scoreless frame. This game only went five innings due to the run rule. LHS had four in the second, eight in the fourth, and two in the fifth. Liberal only had six hits but Hugoton walked 11 Redskin batters and the Eagles had four errors.
The Redskins didn't waste any time jumping on the Eagles in game two. The Angry Red scored four in the first, one in the second, and three in the third for an 8-0 lead. LHS played three more in the sixth. Brodie Warren pitched three strong innings. Alex Yanez pitched 1/3 of an inning and Javier Bojorquez tossed 2 and 2/3 scoreless. The Redskins only allowed two hits and played error free baseball. Cesar Burciaga was 3-5 with six RBI's and a double in the game and 4-6 with six RBI's and five runs on the day. Francisco Terrazas was 2-3 in the game and 3-5 on the day with a double and two RBI's.
The Redskins are 2-0 and host the Ulysses Tigers Tuesday at 4 at the National Beef Family Sports Complex.