Redskins Roll Past Guymon in Opener
Brock Kappelmann - September 7, 2019 7:23 am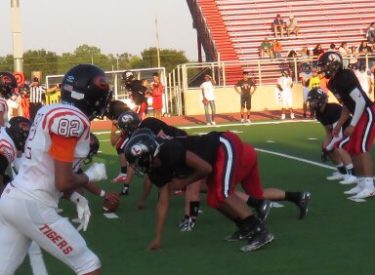 The Liberal Redskins shut out Guymon for a second straight season.  The Redskins defeated the visiting Guymon Tigers 69-0 Friday night at the Gary Cornelsen Sports Complex.  The game was played with a running clock for the entire second half and for the final 3 or more minutes of the second half.  Liberal built a 62-0 halftime lead and played their backups in the second half.
The Angry Red began their 2019 season with an 89 yard kick return for a score by Malcolm Wiltshire.  Syris Dunlap's 25 yard TD gave Liberal a 14-0 lead with 7:47 to play in the quarter.  Dunlap found Braxton Hyde for a 25 yard score.  Josh Arafol intercepted a pass.  Dunlap took it in from 47 yards out to lead 30-0 with 3:58 to play in the quarter.  Kwame Williams gathered in a fumble in the endzone for a score to make it 38-0.  Hunter Hatcher intercepted a pass.  Elijah McCarter's two yard TD made it 46-0 with 9:47 to play.  Dunlap took a busted play 86 yards for a TD to lead 54-0 with 6:35 to go.  Shay Kerr recovered a fumble.  Dunlap found Kerr for a 45 yard TD with 3:47 to play to lead 62-0.  LHS led 62-0 at halftime.  Isaiah Porras recovered a fumble and Kerr came in at quarterback and rushed it in for 40 yards for a score.
Liberal had 378 yards and held Guymon to 80.  Dunlap rushed for 178 yards.  Liberal has won 20 straight against the Tigers.  Liberal is 1-0 and plays at Wichita North at Carpenter Field on Friday at 7 on 1270 and kscbnews.net.  Guymon is 0-2 and hosts Stratford next week.